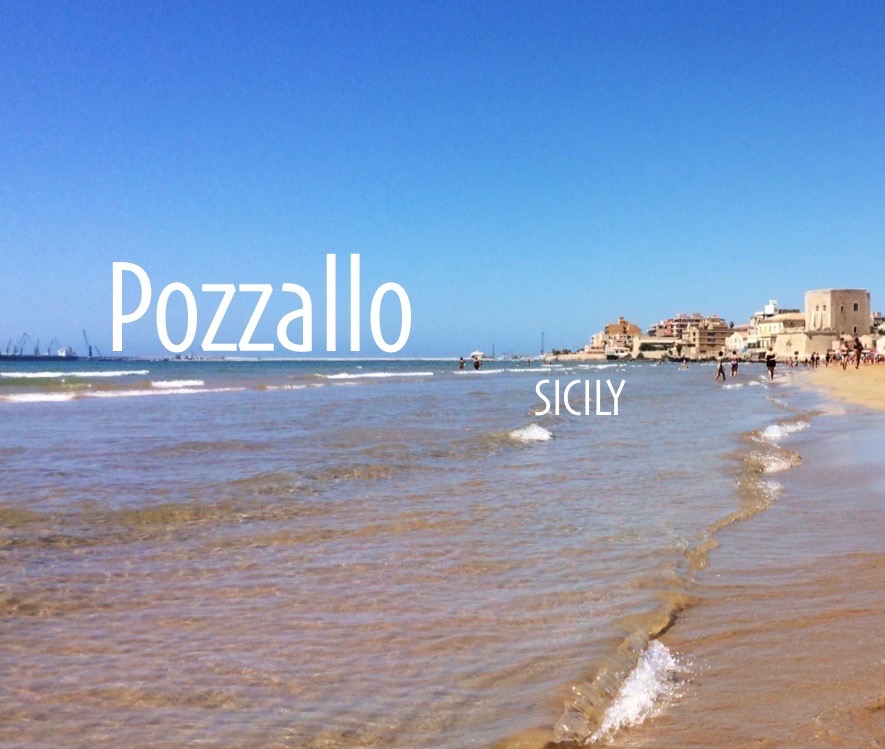 Every summer since I was a toddler, my family travels to a small, fisherman village called Pozzallo in Sicily, where my mom's side of the family originally comes from.  And each year, all my cousins, grandparents, aunts/uncles – each from different countries – come together under one roof.  With narrow streets and the beautiful Mediterranean sea, it's difficult not to fall in love with this Italian gem.  Aside from it's unique and lovable appearance, Pozzallo inhabits some quirky (but equally lovable) residents.  From the man who howls every day at 12 o'clock on the "corso" (the main street of a town) to the two friendly fishermen brothers who dream of America, Pozzallo almost resembles a story book; the town howler, the adventurers, and so on.  Everyone knows each other and each others' issues, which is both amazing as the community really comes together, but at the same time a little uncomfortable :).  As my mom likes to say, "There's no word for 'privacy' in Italian."  Considering everyone knows each other, it's no surprise that the "Pozzallese"'s  – as they're called – routines tend to be in sync.  In the streets, you hear the light clanking of forks from eating a big plate of spaghetti that nonna prepared for.  This, I miss.
I can go on and on about the town, but now it's time for the food.  Let's go!
First of all, groceries: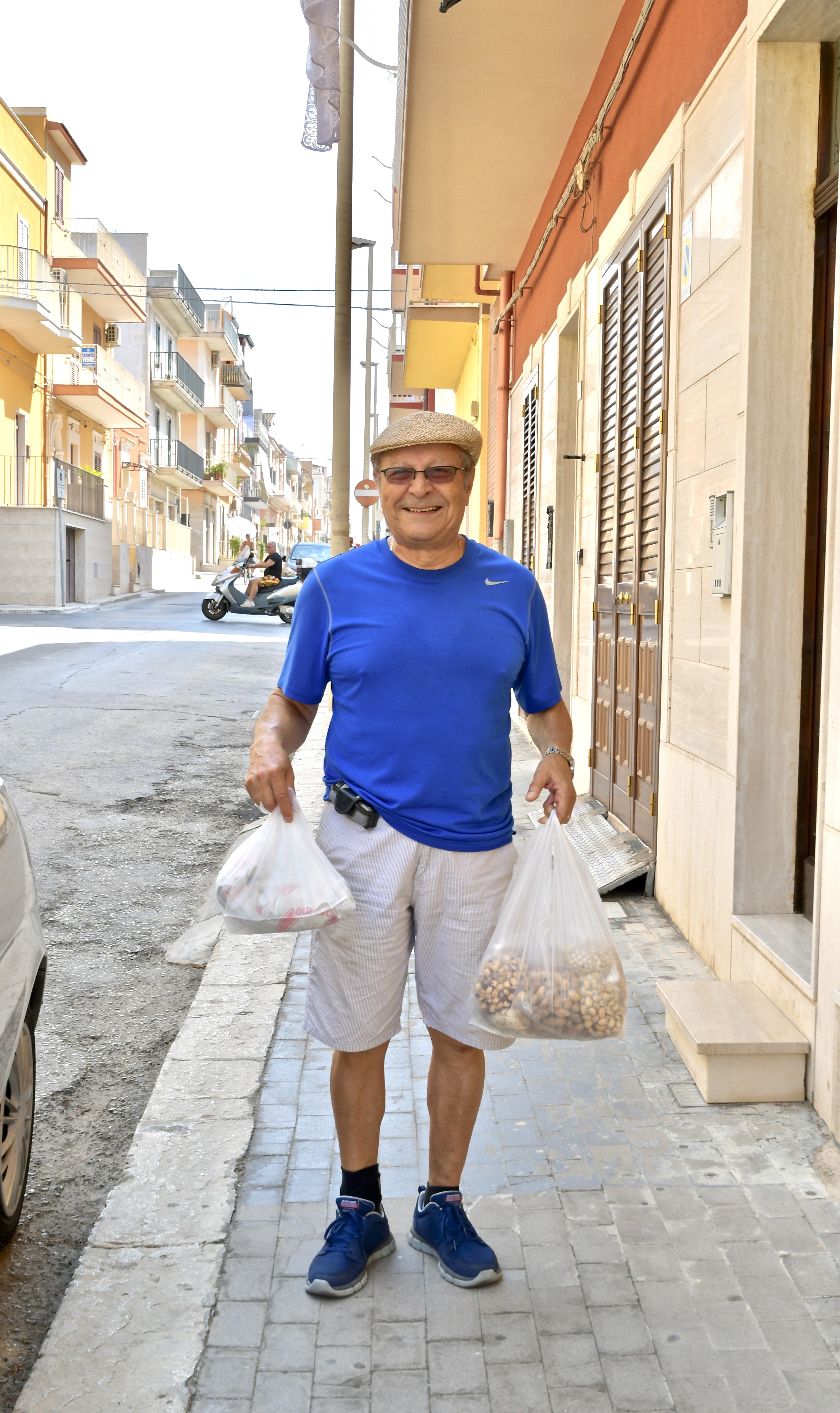 Here's a lovely picture of my nonno.  Nearly every morning, my nonna sends him out to pick up some of the groceries.  On our end, we pick up the vegetables and fruits from a man and his truck filled with arrays of local fruit and veggies.  Once, my nonna asked if a fruit was GMOed, and he goes, "What's this GMO, signora?  I don't even know what that is. We have no such thing!"
The grapes, while soft, are the perfect balance between tart and sweetness, and the vegetables ooze wholesomeness.  My nonno's job for the morning is to pick up any of the nuts or beans we need from a cart that trots around town.  We don't have a car, so if we need something like yogurt, my grandpa will tote around a cooler for 30 minutes to purchase it at a supermarket (in 96 degree heat).  Oddly enough, he seems to enjoy this.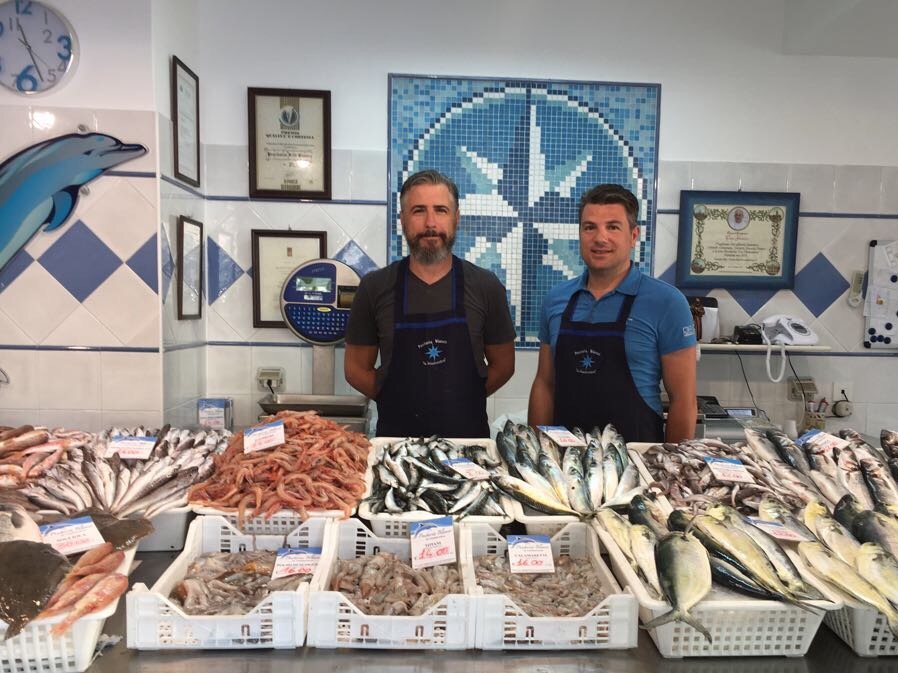 In addition, he'll stop by the "pescheria" (fish store) to pick up local fish: calamari, sardines, anchovies, or any of their fresh selection of fish.  The fish's eyes are still clear, which is an indication of how fresh the fish actually is.  The brother's that own the pescheria are always so friendly, and frequently share their dreams of coming over to America with us.  When we're not purchasing fish from them, my grandpa and brother will stop by a small little boat operated by a family friend, where they purchase directly from the fisherman some fresh, fat scampi.
Everyday, at about 1 o'clock, a few miniature trucks skid along the streets yelling "Riiiiccccooootttaaaa!" from the top of their lungs in each their own way.  My nonno recognizes his guy's voice, and then scurries down our stairs with a ceramic bowl in hand to get the ricotta and eggs.  The ricotta is made from a wrinkled man from the countryside, and the eggs are sourced from his small farm.  Then comes the weekends.  This is the part where everyone in the family brings their bags, ready to pitch in – it's the farmer's market.  This is the only thing the town wakes up early for; they speed-walk to ensure they get the best produce and cheeses.  It's quite the scene.
The panificio: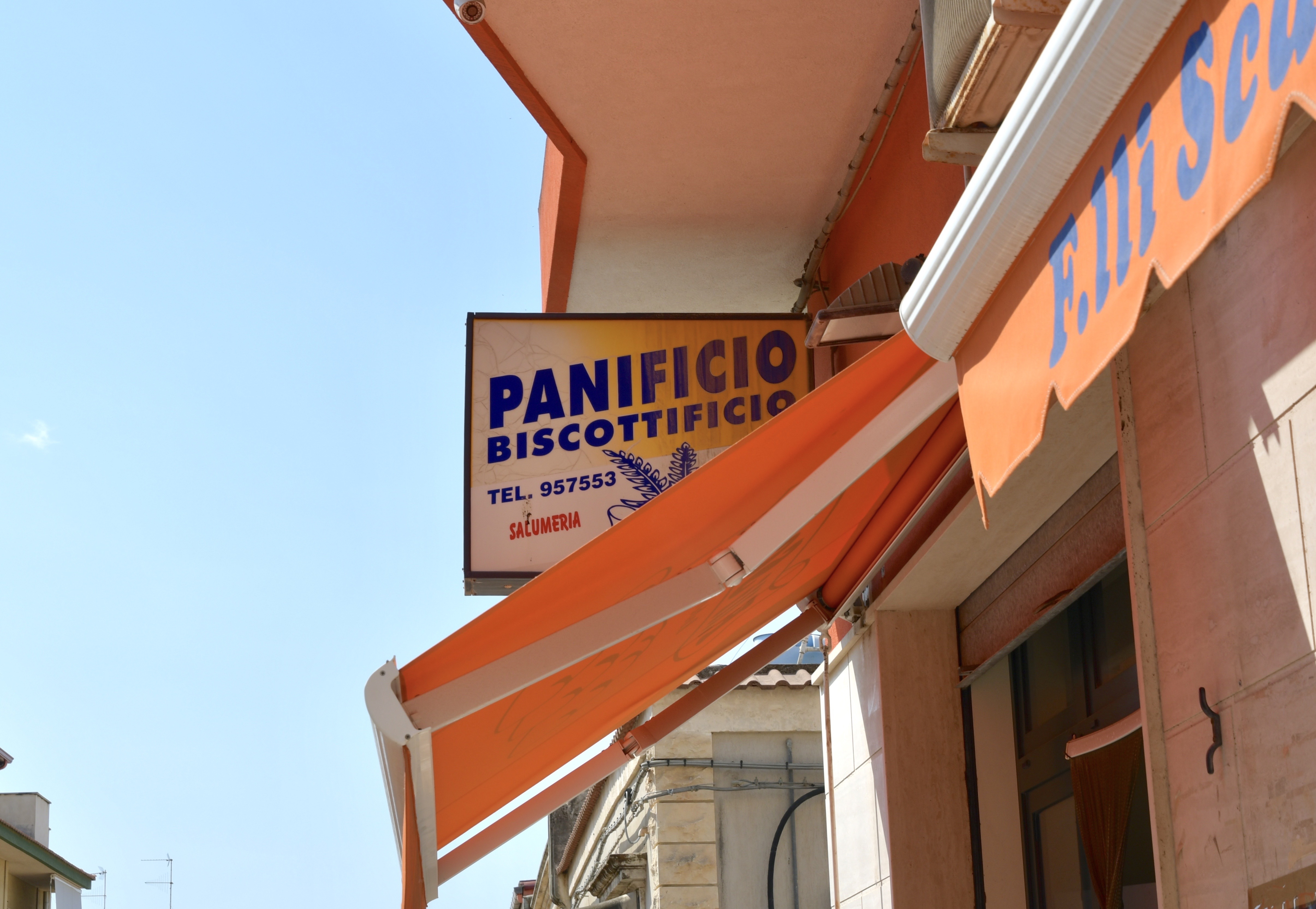 Every morning, my mom, nonna and I go to the beach at 7.  On our way back, we make a stop at Panificio F.lli Scarso, a family-owned bread shop. Workers wake up early to bake the bread, so there's no such thing as day-old bread (crazy to think about, right?).  My personal favorite used to be the one in the left bottom corner – it's made with "madre lievito" which is the "mother" yeast.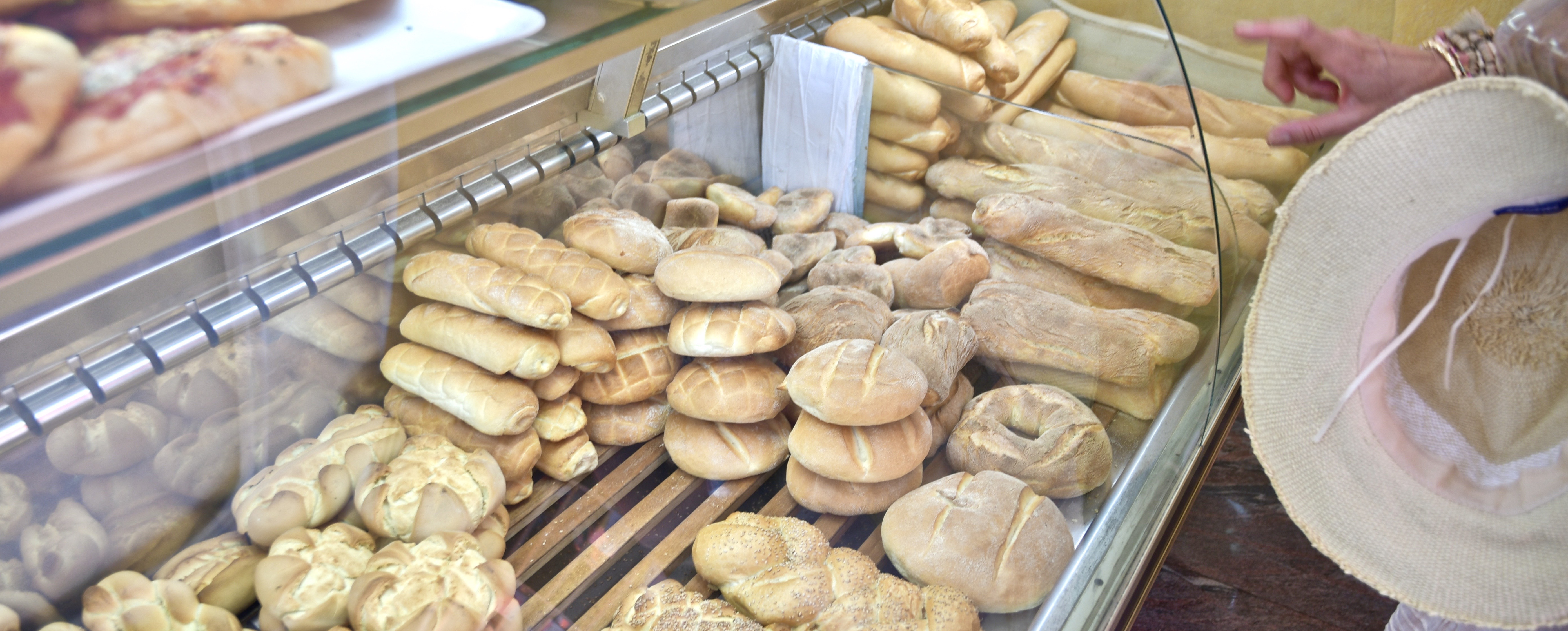 Then, onto the right of the store, there is a case of cookies along with some grissini, or breadsticks.  Cookies are considered to be more breakfast cookies than a "dessert."  Most enjoy them by dunking them in their espresso.  These include squisiti which are the ones with the spikes on them in the shape of an "s" shape.  Breadsticks are usually enjoyed by themselves as a snack (making many appearances on beaches).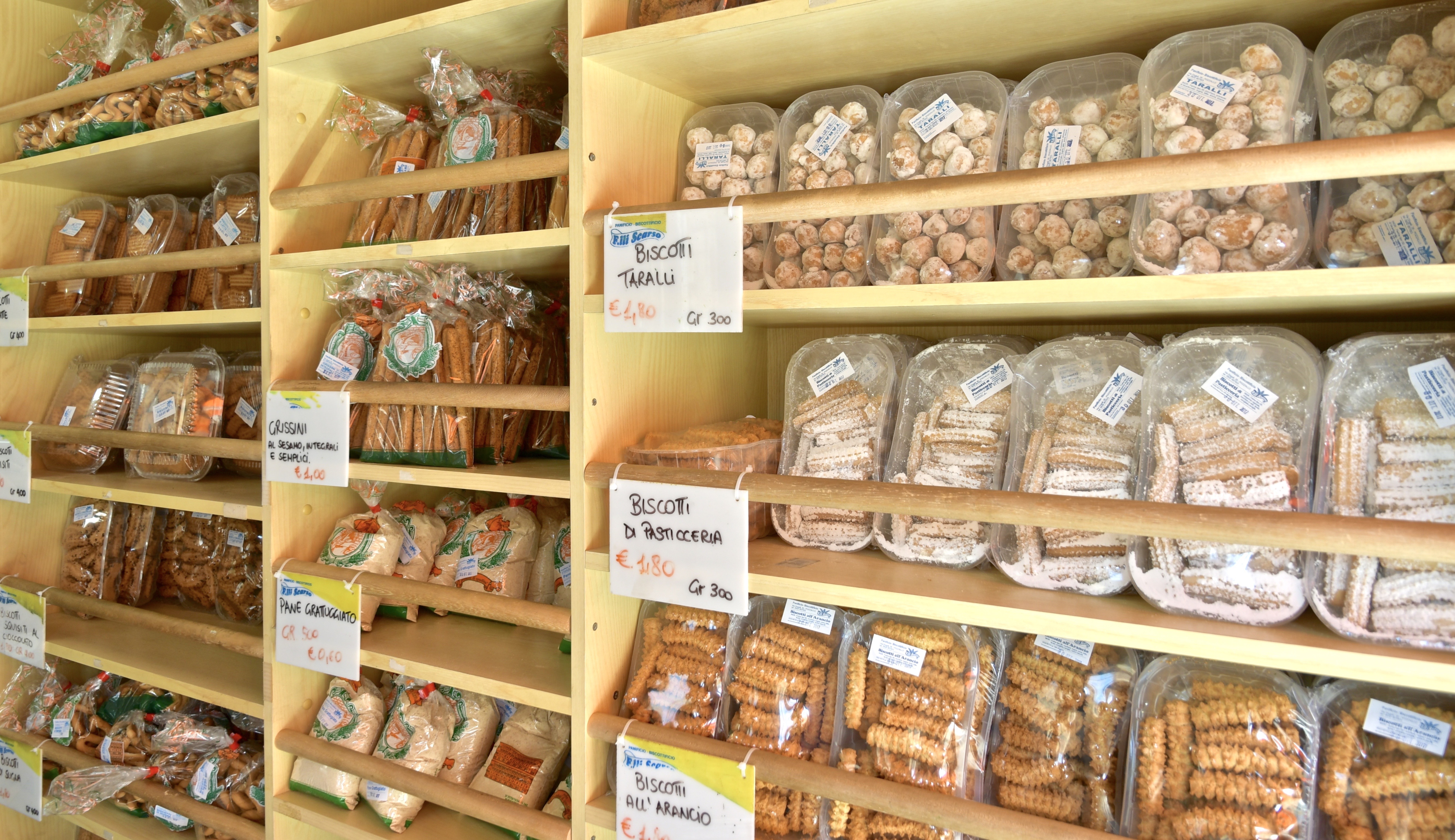 It's an amazing experience to see the bread being baked every morning, and smelling it on the streets.
The pizzeria/rosticceria: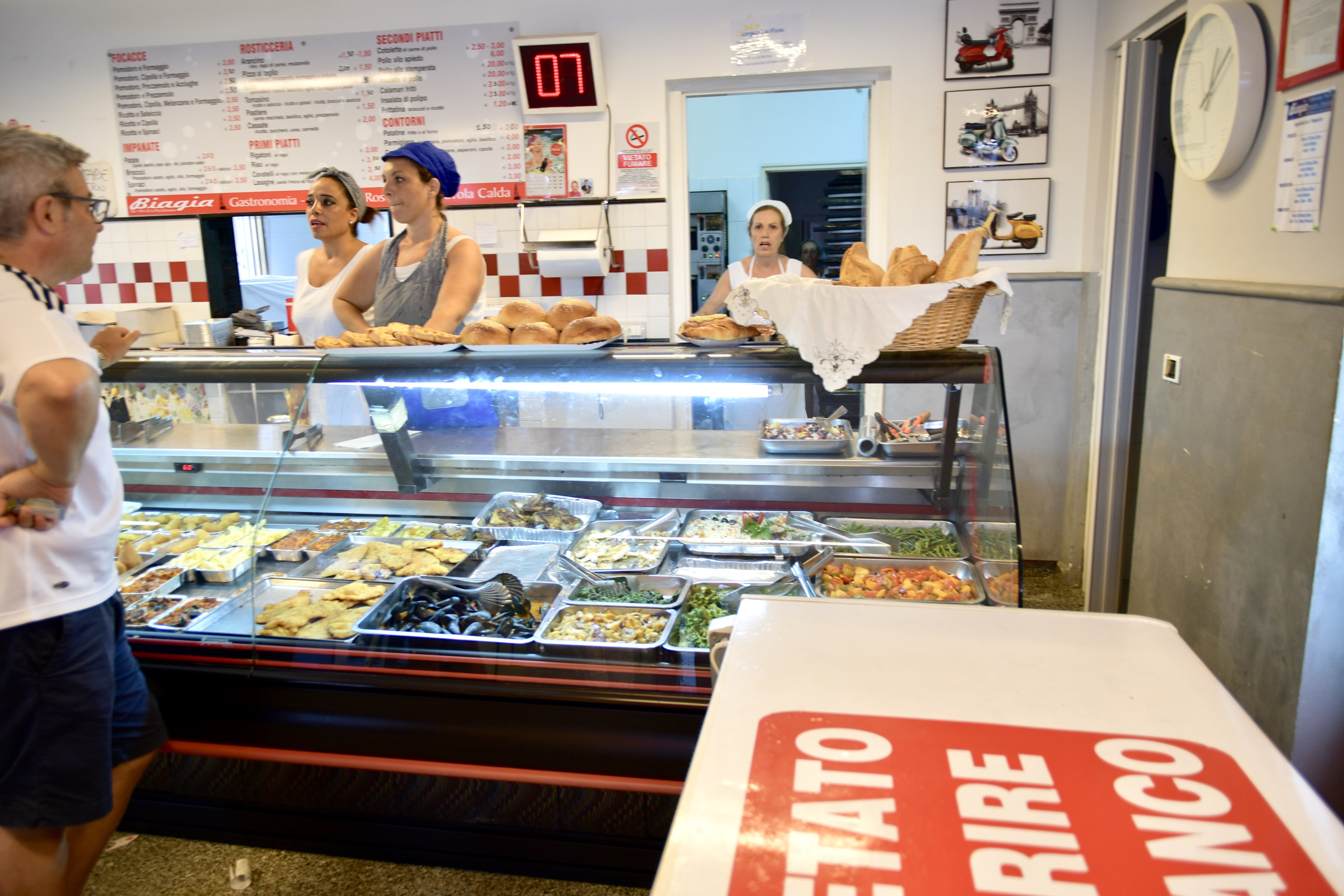 The Da Biagia Rosticceria is a classic when it comes to Sicilian classics like "arancini," "pizzette," among other dishes like "pasta al forno."  Pizzette are small, and have fillings (ricotta, pomodoro, spinach) within a doughy crust.  It's so popular that there is a long line waiting out their door every time we go – think of it as a restaurant along the lines of "fast food."  Run by a group of hardworking Sicilian women, it is quite normal to hear frequent yelling and fighting.  This is quite the contrast from the way a typical American restaurant is run, but it adds all the more fun to the eating experience.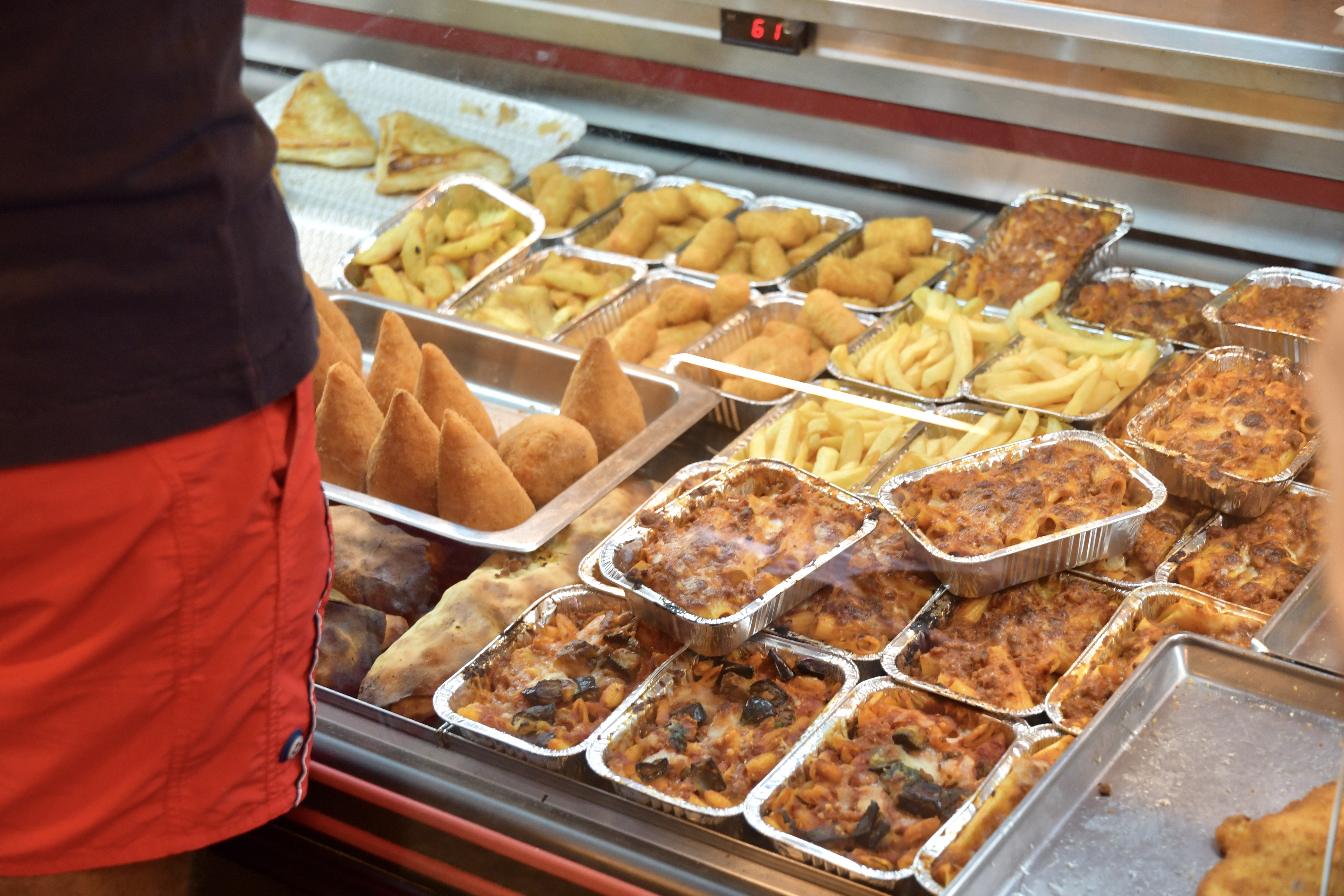 Biagia has a history with our family.  Biagia not only knows our name, but recognizes our voices.  Every time a new part of our family arrives to Pozzallo, we order Biagia to celebrate, and the same happens when someone leaves.  Imagine: a huge table in a 90 degree room, with the elders carefully cutting each pizzette only to be gobbled up by the younger kids in minutes.  Our family jokes that only certain people can have the right to slice Biagia's pizzas, similar to a surgeon.  It's serious business to say the least.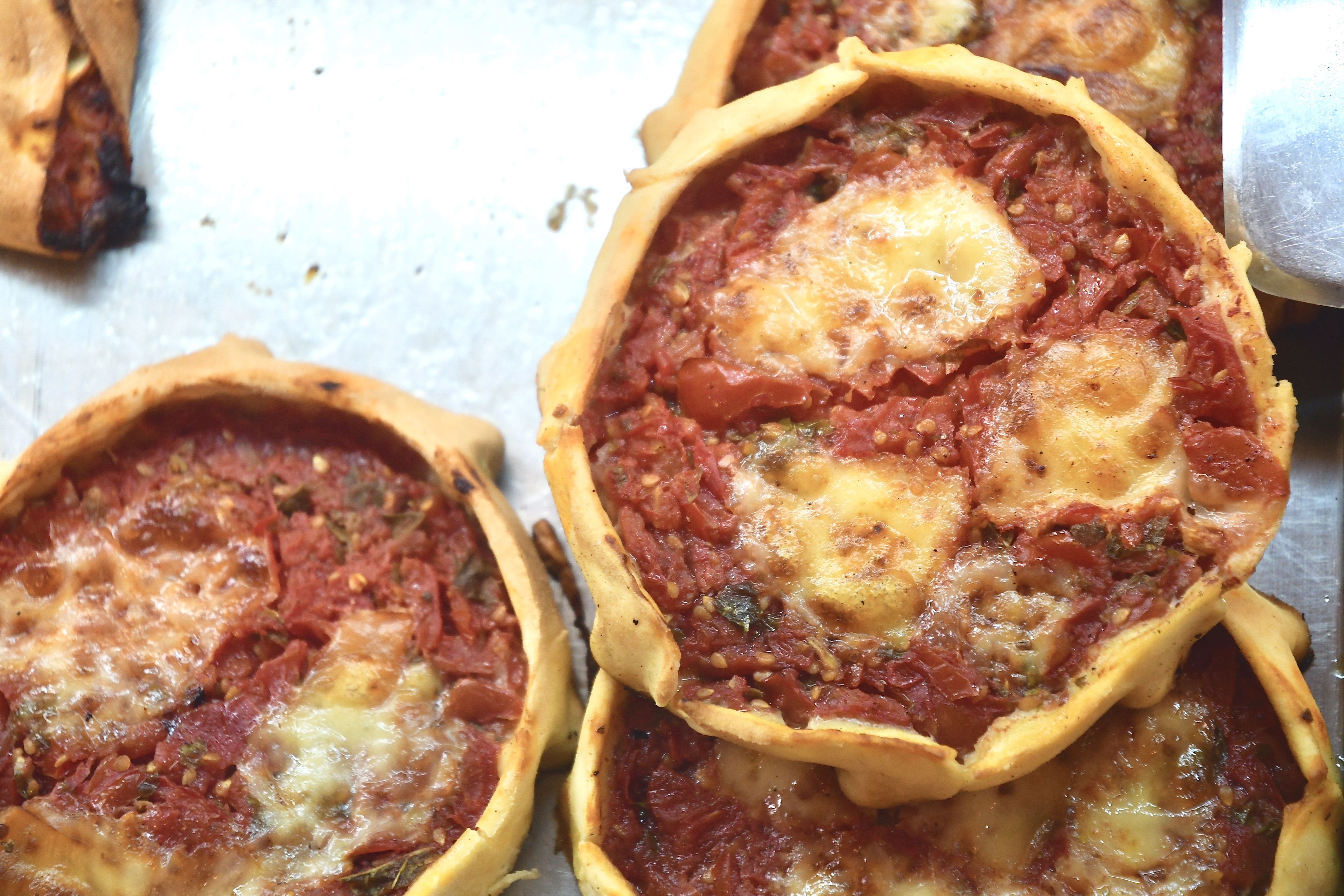 A favorite among my family is the arancini and the spinach pizzette.  And while I didn't eat one of these, I enjoyed it just as much by ordering the spinach and putting it with my own gluten-free bread that I made.  It was delicious – maybe even more than the real thing 🙂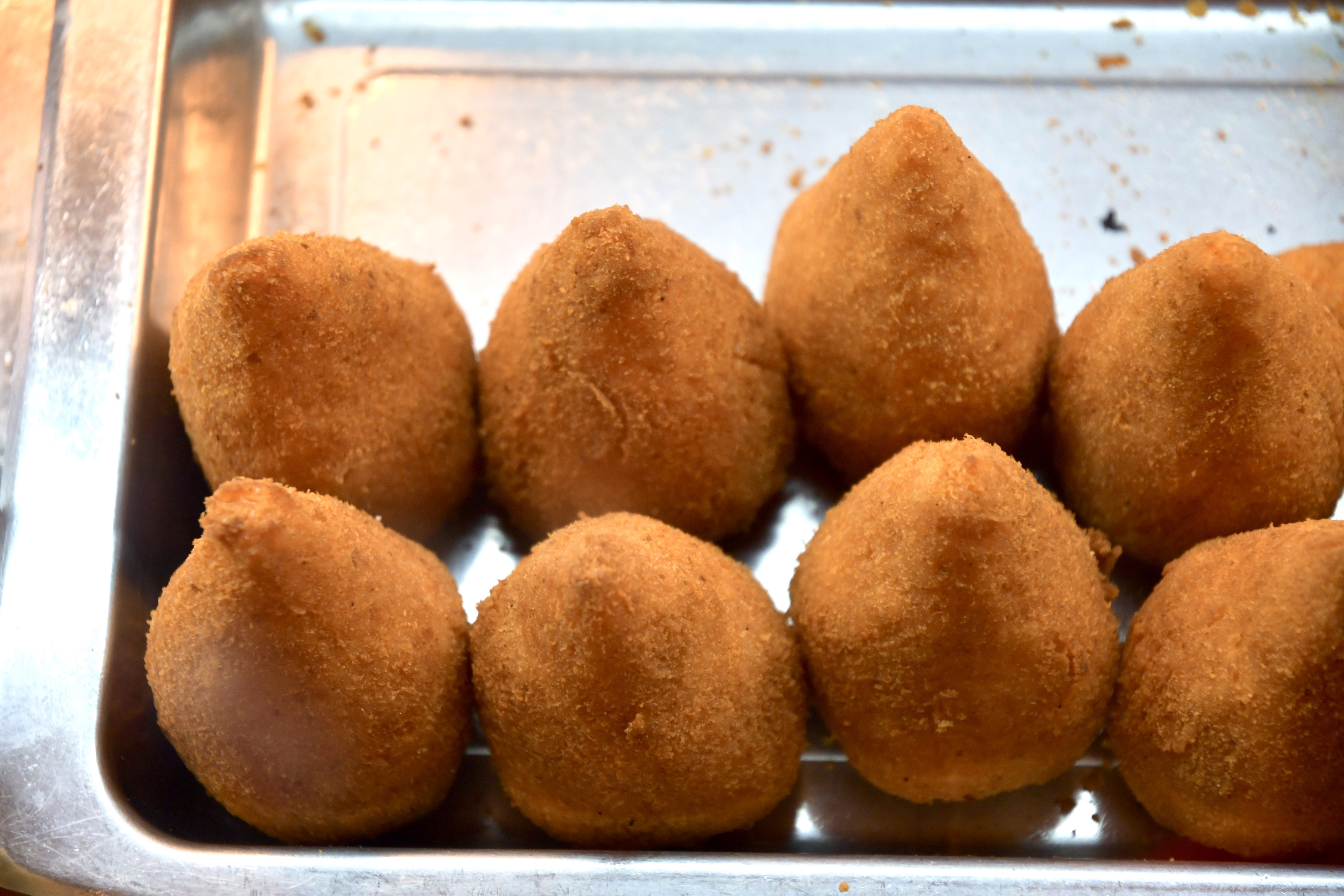 Next up, the pastry place + gelateria: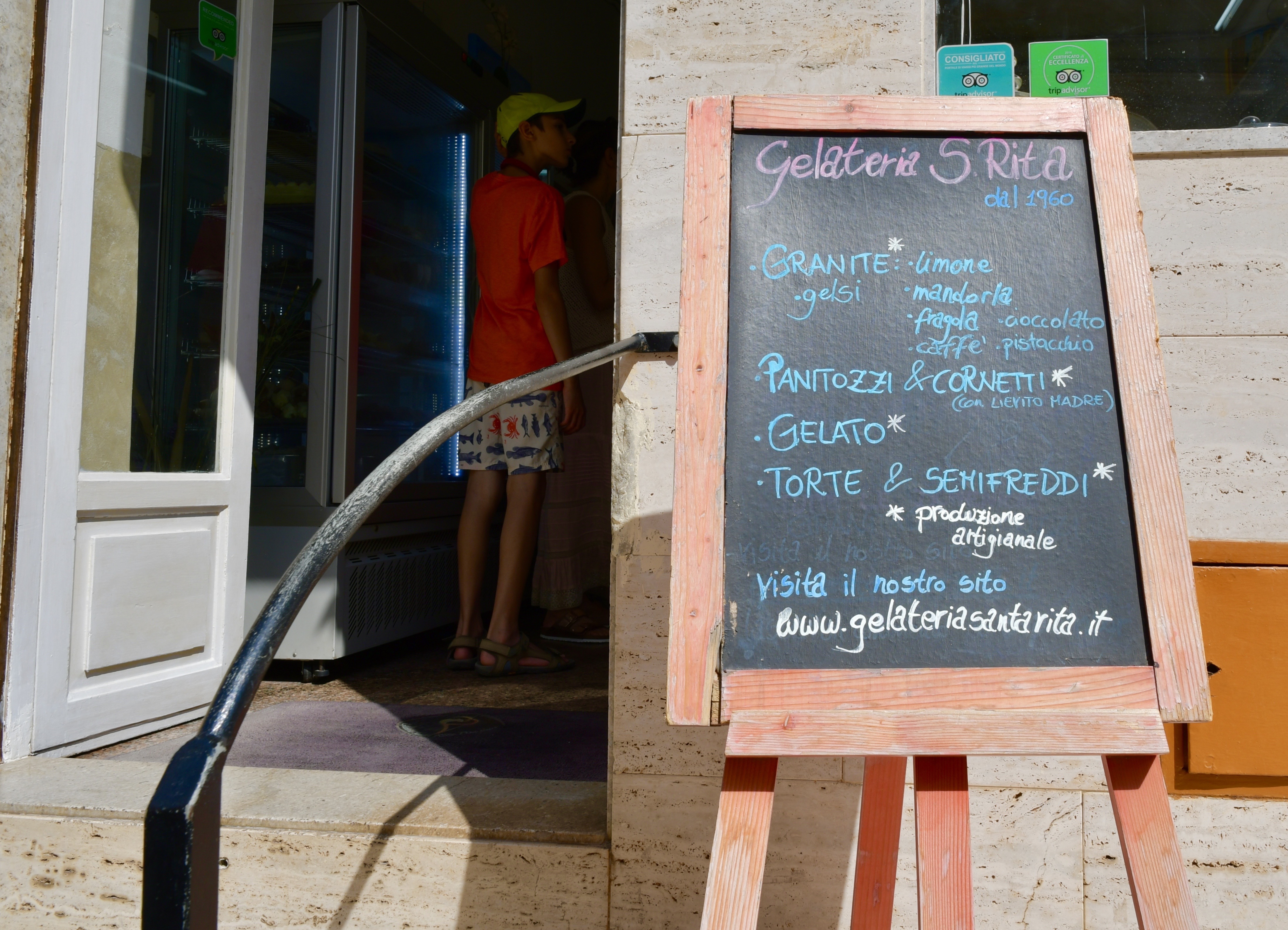 Gelateria S. Rita has been one of Pozzallo's go-to spots for homemade gelato, granita, and cannoli.  The difference between gelato and ice cream is that gelato tends to be softer.  Granita is what would be mistaken as "Italian Ice," but granita doesn't use syrups.  It falls along the lines of an icier, but softer sorbet.  The classic granita flavors are "caffè" (coffee), "mandorla" (almond), and "limone" (lemon).  Gelateria S. Rita has been around since 1960, and like many other Pozzallese businesses, including Biagia's, it's family run.  The founder's grandchildren run around the front stoops, talking to the customers, and occasionally try stealing cookies.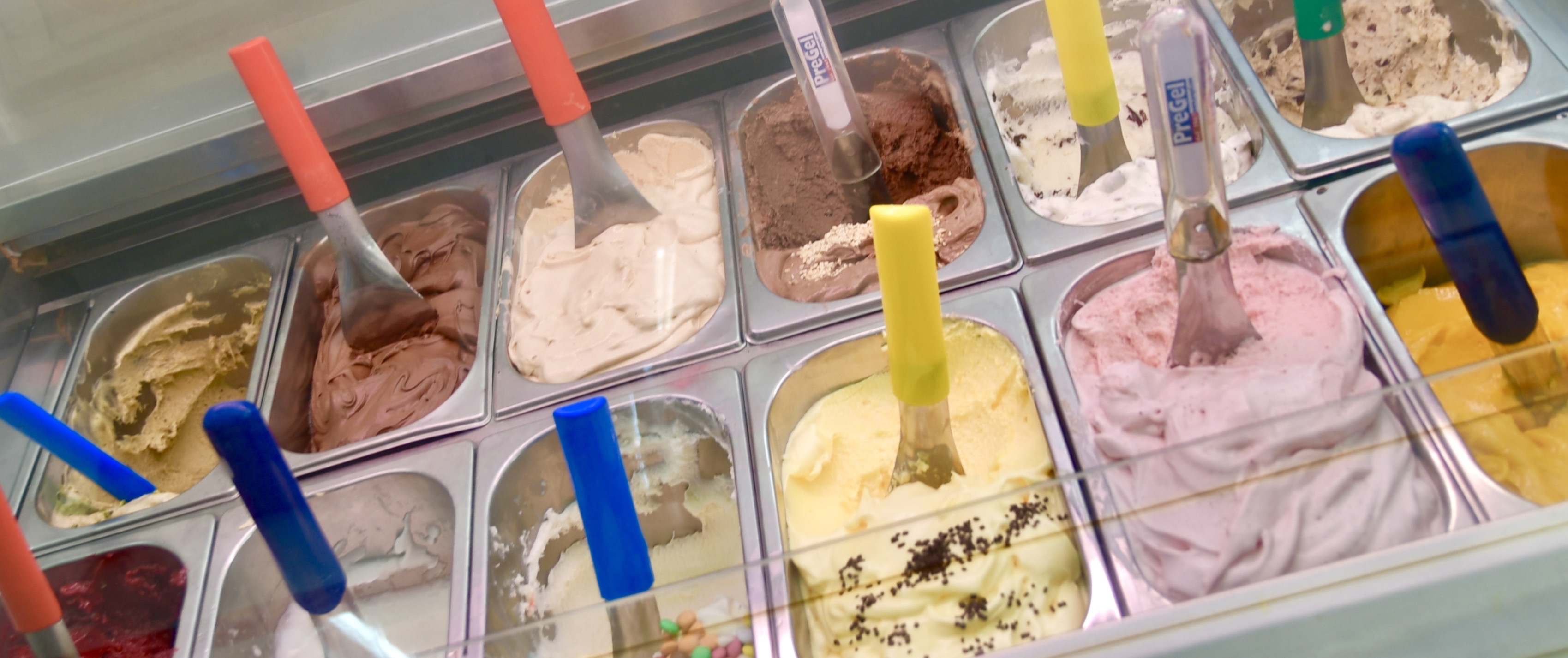 Cannoli are taken very seriously in Pozzallo.  We even have an event called "Sagra del Cannolo," or Cannoli Fest in which sellers from nearby towns show off their cannoli.  The classic one has pistachio on the ends with a candied piece of orange.

But there are other flavors such as lemon and chocolate.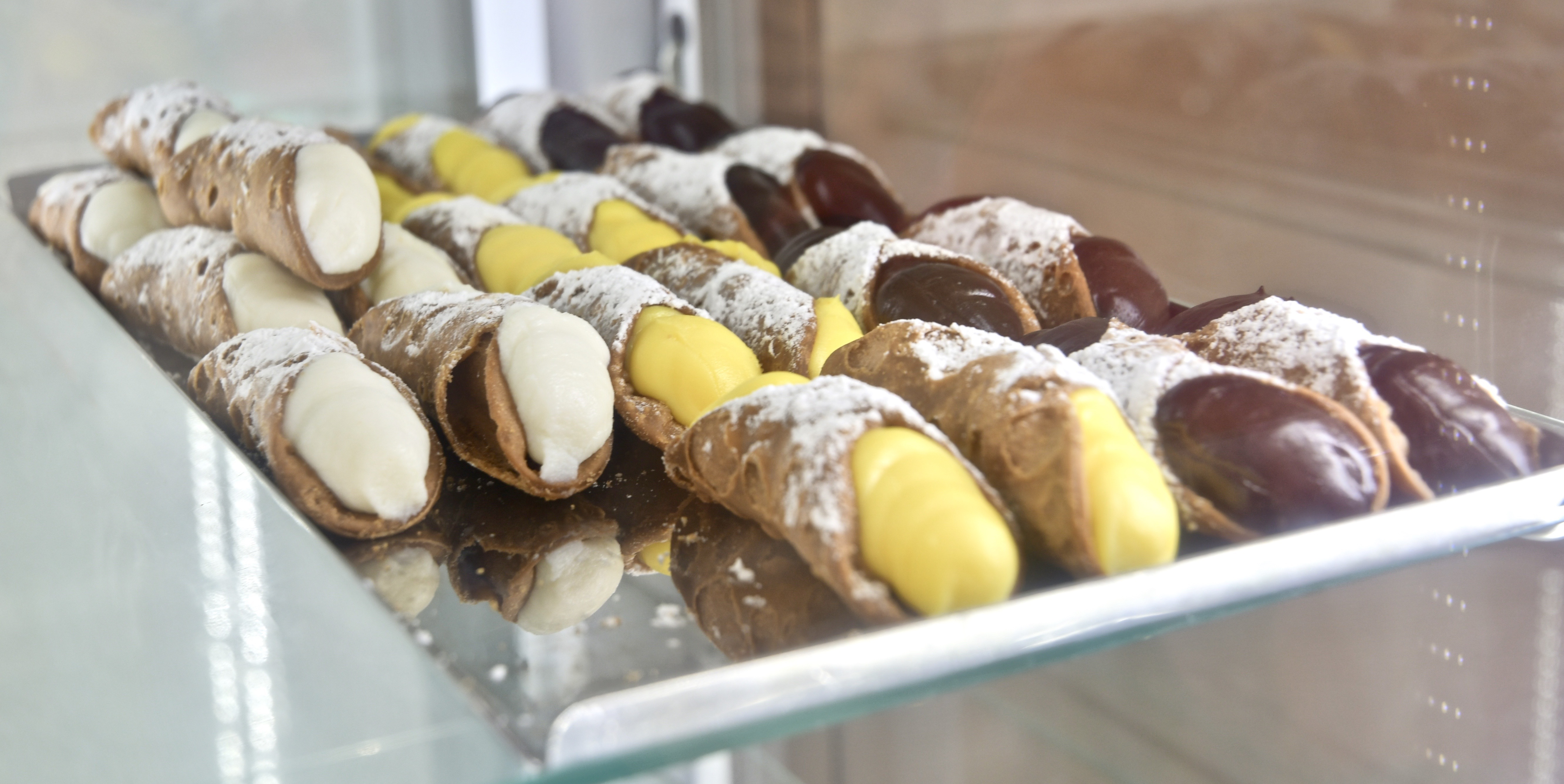 For gluten-free and dairy-free options:
Like most places in Europe, there are allergen-friendly foods in pharmacies.  Pharmacies tend to have aisles dedicated to these foods.  For example, they sell gluten-free pizza crust, coconut oil, among foods.  If you're at an airbnb or have an access to a kitchen, between the fresh produce and the famous gluten-free brand Schärr, it's not too hard to follow your healthy ways.
---
I hope all of you enjoyed peeking in into the foods offered at the small town of Pozzallo!