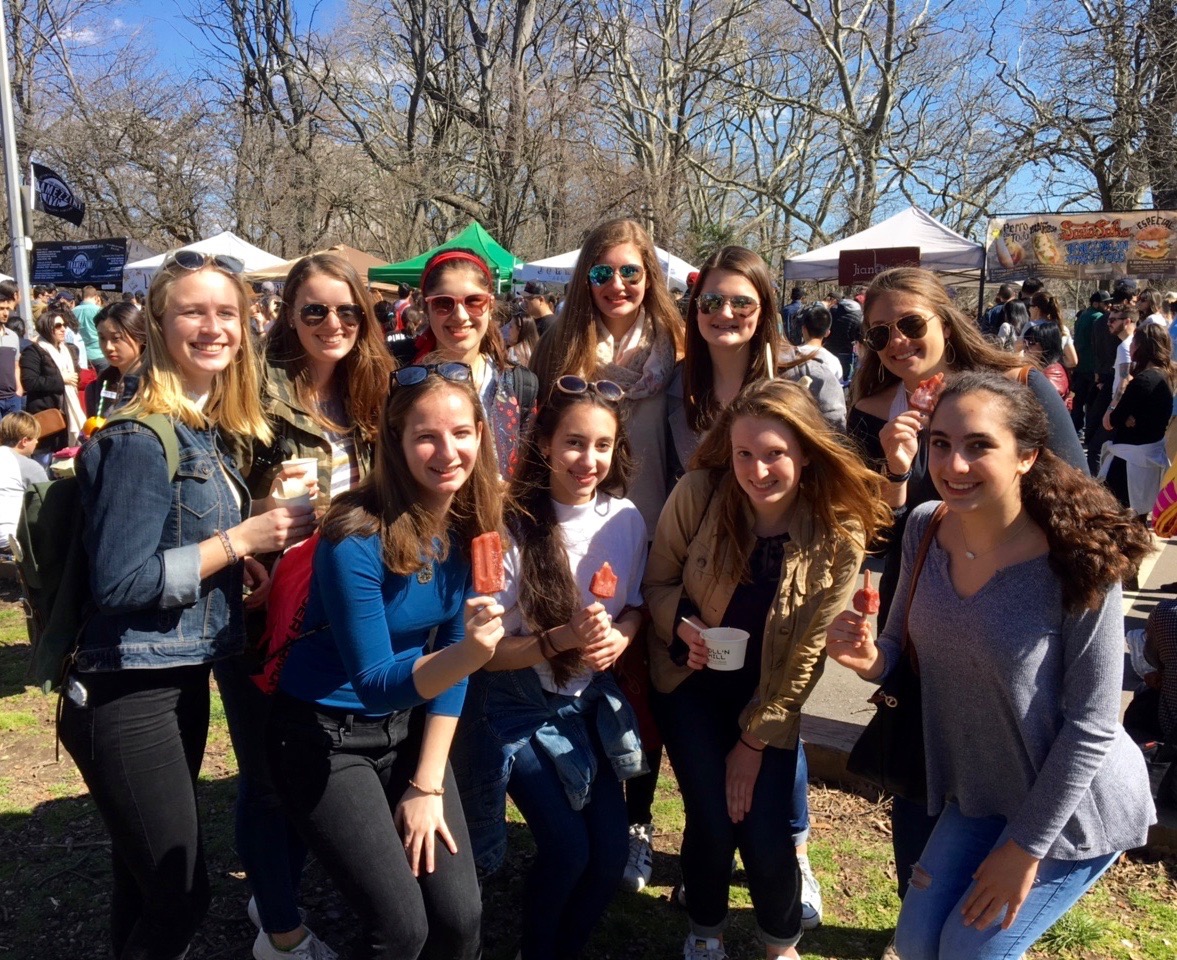 Last week, my friends and I went on a foodie adventure to Smorgasburg in Prospect Park, an outdoor market full of small pop-up restaurant stands.
Walking in, Smorgasburg appears to be its own bustling metropolis centered purely on food from local vendors.  It was truly a wonderland; I talked to fellow food enthusiasts on line, met the chefs of the stands, and best of all, I had the chance to try out innovative food with my friends.  There are over 75 stands, each with their own unique menu.  Below, I've put together the 5 best stands (including dairy & gluten-full ones my friends enjoyed).
5. Dulcinea 
These churros were not only tasty, but absolutely beautiful; the sparkling sugar with golden dough shining from underneath could make anyone's mouth water.  The company is dedicated to taking the traditional Spanish churro to new heights.  My friends ordered the churros with a nutella and caramel dip.
Roll'n Chill is a creative spin on the way people eat ice cream.  Their process is very interesting; they pour an ice cream batter on a super cold metal, and then with a scraper, they roll the ice cream into little rolls (hence the name Roll'n Chill).  Available at the market were three flavors:
Unicorn – Sprinkle based ice cream, fruity pebbles, cotton candy, marshmallows, and other candy
The Salty Sweet – Dulce de Leche infused ice cream, chocolate sauce, whipped cream, salted peanut, himalayan pink salt, pretzel and toasted marshmallow
Triple Chocolate – Chocolate ganache infused ice cream, homemade brownies, whipped cream, chocolate sauce, chocolate flakes, and toasted marshmallow
The ingredients in their ice cream are natural, and they make everything in small batches.
People's Pops is minimalistic, and amazingly refreshing.  Unlike the ordinary color-dyed shaved ice or pops, this quaint company uses real (& seasonal) fruit, herbs, and organic cane sugar – nothing else.  It's received praise from Rachel Ray and the NY Daily News.  People's Pops has unique flavors from lemon basil to blueberry lemon;  and even better, they make their shaved ice  the old fashioned way by scraping a 75lb ice.
2. Big Mozz
While I didn't try out these mozzarella sticks, they were a hit among my friends.  Big Mozz actually makes their own mozzarella in small batches, which they source from local grass-fed dairy farms, adding a special (and quite original) spin to what one would think of as a "typical" mozzarella stick.  The mozzarella itself is a creamy color, and is the type that can stretch a mile.
Veggie burgers don't always have the best reputation, but when I passed by the Monk's Meat stand, I knew that I had to go.  So worth the 20 minute line!  I ordered their Oyster Mushroom BBQ burger, and watched the chef neatly assemble it: thin slices of apple, lettuce, and barbecued oyster mushrooms, topped with pickled onion.
Once I took a bite, an explosion of spices and textures set off in my mouth; the sweetness of the apple, the crispness of the lettuce, the smokey flavor of the mushrooms, and the vinegary flavor of the onion.  The balance of flavors made the veggie burger even more enjoyable than an animal-based one.  It was an extremely sad moment when I finished the burger 🙁 .  But according to their website, they have two other locations: Vegan Shop Up (Brooklyn and Manhattan), so I'll be surely visiting soon.  I wasn't the only one who was in love, because right after I left, they were sold-out.  Definitely a must-eat!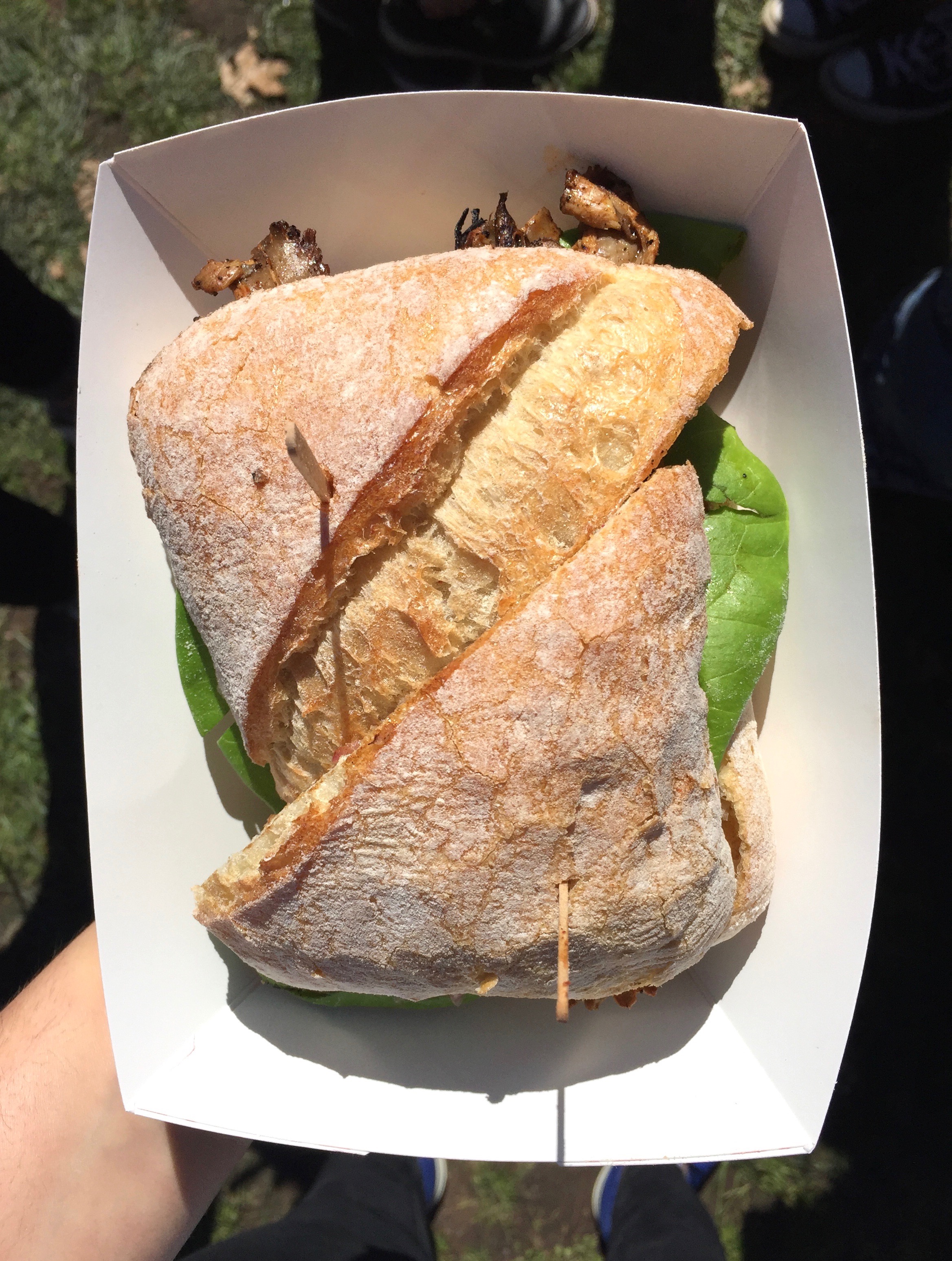 Visiting the Smorgasburg market will open your eyes to genuine, high quality foods – you can't miss it!  Bring some friends, money, and a camera and get your way to Smorgasburg 🙂