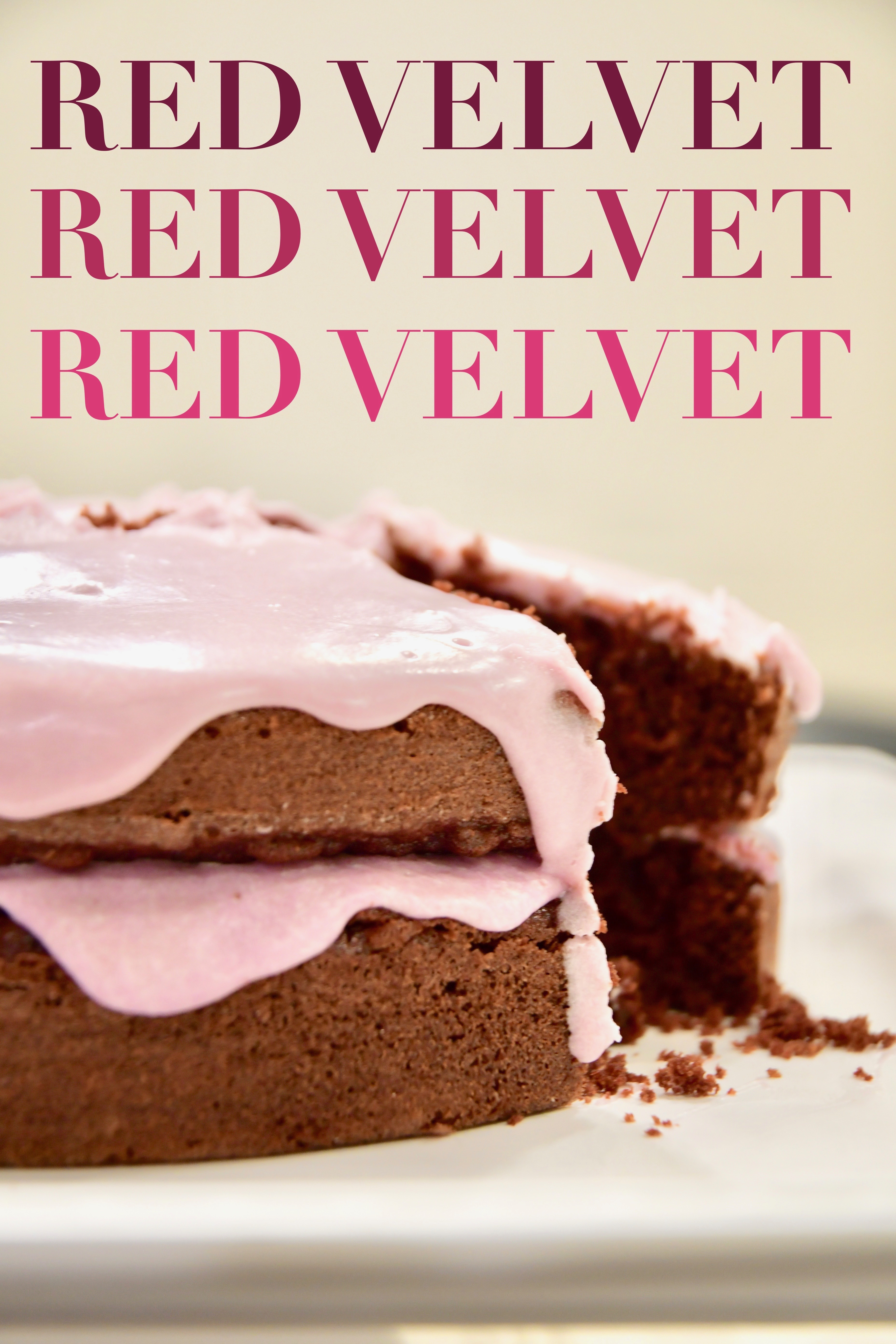 Valentine's Day is here, and whether or not you have a significant other, it's the day of love – so treat yourself!  It's pretty easy to think of a list of ways to treat yourself, but this gluten-free and dairy-free red velvet cake is pretty high on the list.
Now it doesn't take a genius to realize that the traditional red velvet cake is typically not gluten-free and dairy-free (and in a dark red hue).  I have two answers 1) you can't tell that it's gluten-free and dairy-free, and 2) it's not bright red because it's made with natural dyes!  WARNING: do not underestimate this cake.
It's moist, perfectly sweet, and well, velvety.  I made this back for Christmas Eve, and nearly the whole cake was gone by the end of the night – and it was a huge cake.  Let's be honest though, there's no need for a red-themed holiday in order to enjoy this dessert 🙂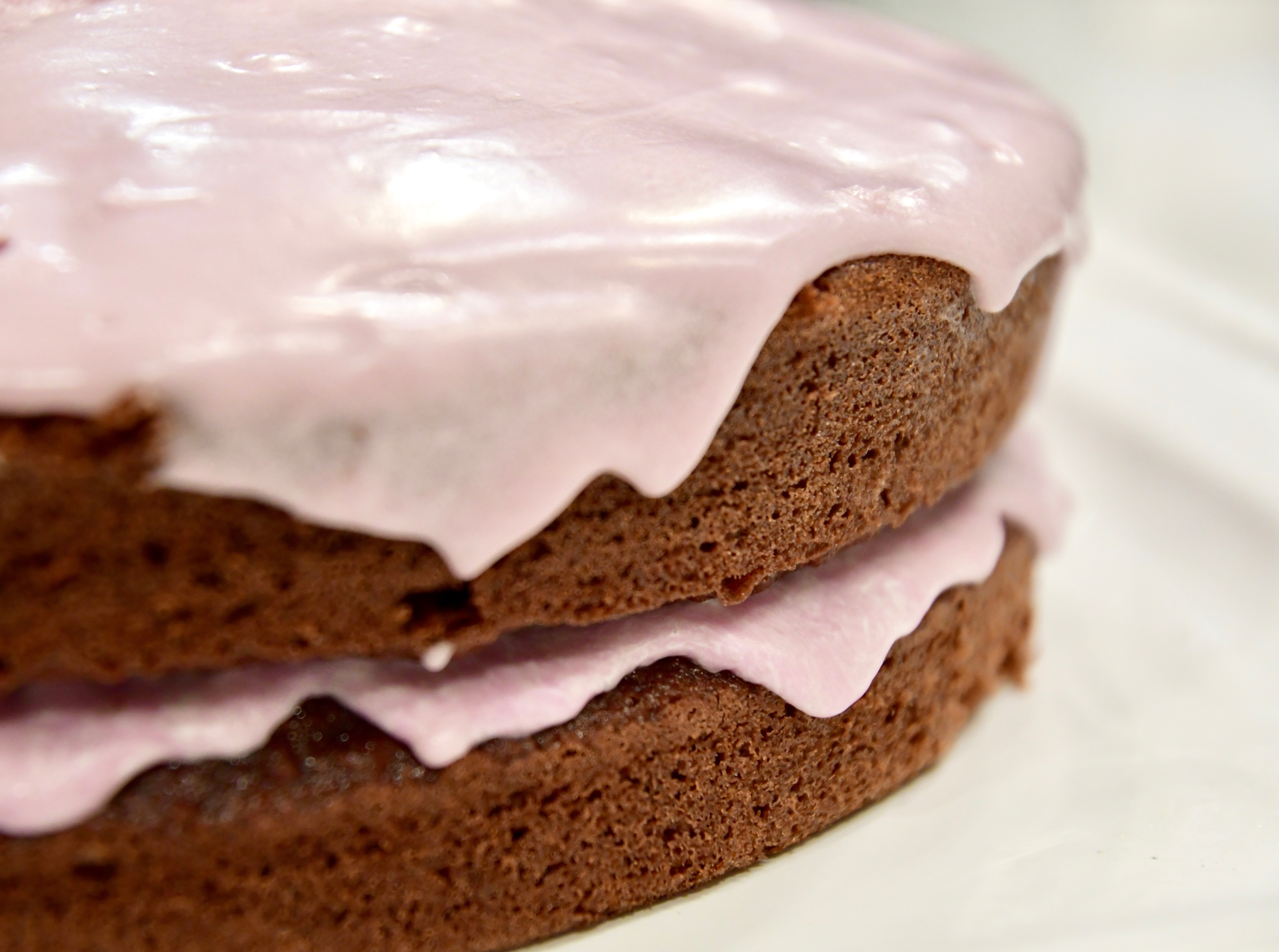 Red velvet cake is one of those staple recipes that always wow at events.  They're a gorgeous color and please both the chocolate and nonchocolate fans.  This cake has a burgundy color to it, and I think that it perfectly complements the pink icing.  If you want to make it redder, artificial coloring is the best way to achieve it – but before you do, chew on this:
According to a recent report from the Center for Science in the Public Interest, Red Dye 40 may have dangerous health consequences for children.
Red 40 contains compound such as benzidine and 4-aminobiphenyl that research has linked to cancer.
Research has also associated food dyes with problems in children such as allergies, hyperactivity, irritability, and aggressiveness.
Considering this, red dye might not be the best way to spread your love, so perhaps try sticking to a natural food coloring dye.  You can buy it at your local supermarket, or even make it.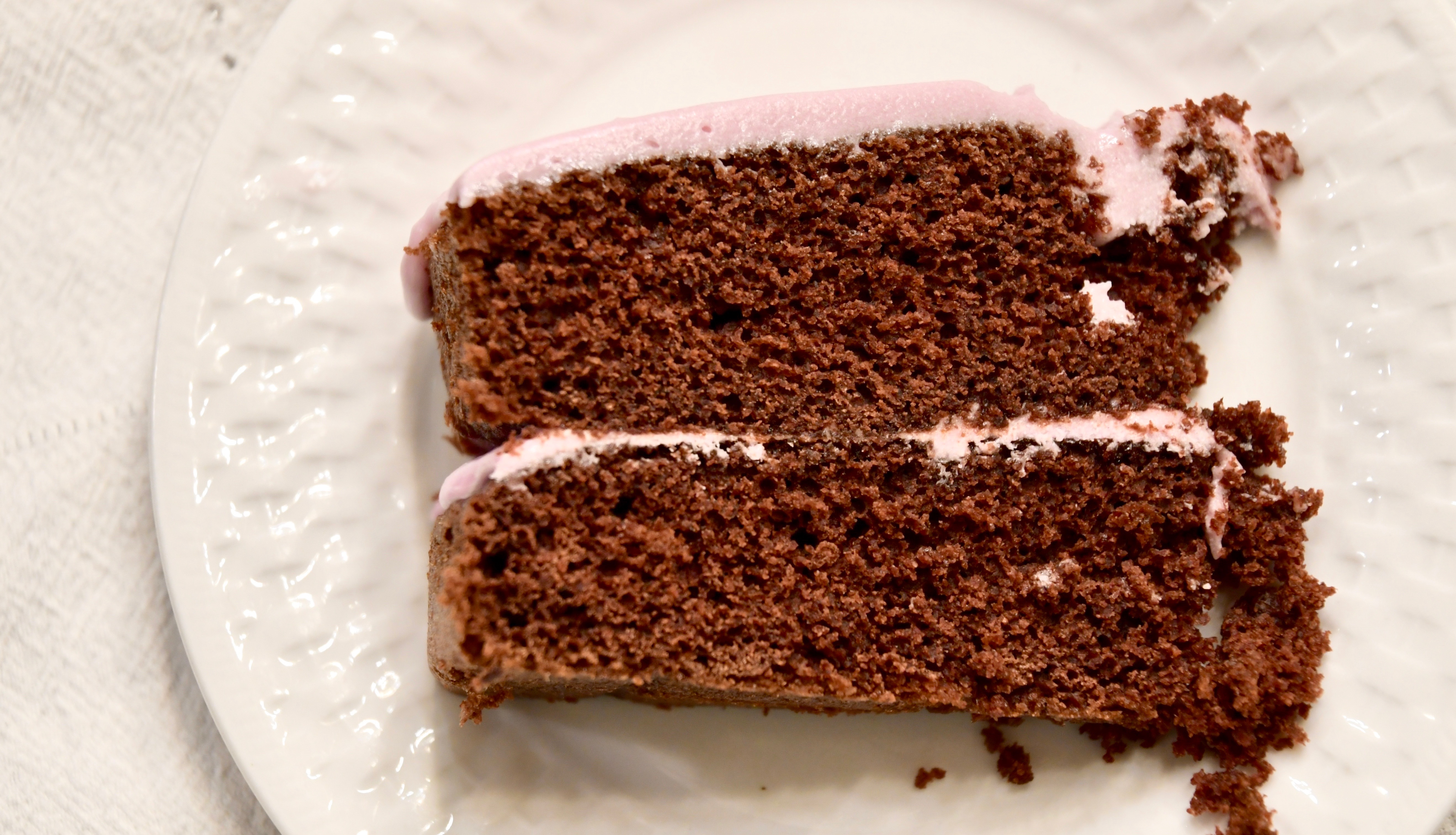 To top of this red velvet cake and really make it special, dress it up with an icing of your choice with those (natural) food dyes.
And there you have it, a delicious gluten-free and dairy-free red velvet cake!

Red Velvet Cake (GF + DF)
Author:
Kayla (adapted from the New York Times recipe)
Cuisine:
Gluten-free, Dairy-free
Ingredients
Cake
½ cup vegan earth balance butter
3 tbsp cocoa powder, divided
1¼ cup sugar
2 eggs
2 tsp vanilla extract
a packet of natural red dye (mine was in powdered form) + 3 tbsp warm water *
1 tsp baking soda
320g gluten-free all-purpose flour
1 cup soy milk
1 tbsp + 2 tsp apple cider vinegar or vinegar
Icing (optional)
1½ cups powdered sugar
1½ tbsp vegan butter
½ tsp vanilla extract
2 tbsp almond milk
2 tbsp vegan cream cheese (Daiya works well)
Instructions
Preheat 350 degrees. Grease 2 9-inch pans and coat them with 1 tbsp sifted cocoa powder, tapping the pan.
Cream butter and sugar together and add in eggs one at a time. Beat vigorously until each is incorporated and mix in vanilla.
In another bowl, make a paste with the 2 tbsp cocoa, food coloring, and 3 tbsp warm water. Blend into butter mixture.
Sift together remaining dry ingredients. Alternating in 2 batches each, add dry ingredients and buttermilk to the butter mixture. In the last batch of buttermilk, mix in the vinegar before adding to the batter. Mix until blended.
Divide the batter among the pans and back for about 20-25 minutes. Cool on a rack completely.
Notes
* if not powdered, use 2 tbsp of food coloring and skip the water
Works Consulted
https://www.healthline.com/health/food-nutrition/is-red-dye-40-toxic#hazards