On Sunday, I visited the GF & AF Expo at Secaucus, NJ, USA's largest gluten free and allergen friendly event!  It was fantastic!  It was so great to see the gluten free community come together, ask questions, gain knowledge, but most importantly, find amazing food.
I was in awe of how many brands there were, and how delicious most of them were.  Some brands that I have over looked in the past, surprised me today.  Famous brands like Cheerios were there, and some newer ones like Luce's.  The trend among most of these brands was definitely desserts, but I also saw many pizzas and snacks.
Overall, there was deliciousness.  Here were some of the highlights:
                                                                                                            Luce's Gluten-Free Artisan Bread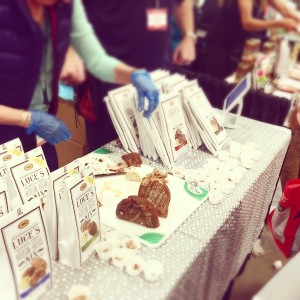 Definitely one of the best stands there!  All you do is buy the package, add water, and bake.  No eggs, no dairy, no nuts.  The ingredient list is very simple – no additives or preservatives. The bread taste was mind blowing!  Crunchy outside, and chewy inside – just like real artisan bread (just way better).  My favorite flavor was the Italian bread.  You can put anything from cashew butter to tomato sauce with it.
The name says it all.  Everything I tasted was more than really great.  They had multiple cake mixes displayed, but they have more on their website that I'm yet to try out!  Everyone who passed by said comments like "these are the only cake mixes I buy" and "oh my gosh is this actually gluten free?".   With each mix, the company encourages you to make  your own variation such as adding maple syrup to the golden cake mix.  My mom loved the banana bread and pumpkin bread.  These cakes will make you love cake more than you could ever imagine.
If you were a fan of whole grain, hearty sandwich bread, this is the bread you need to buy.  So good.  The Sprouted for life Almond Bread was full of healthy ingredients like sprouted chia, quinoa, and millet.  Also, the gluten free english muffin was amazing, and they paired it with sunflower butter by Once Again.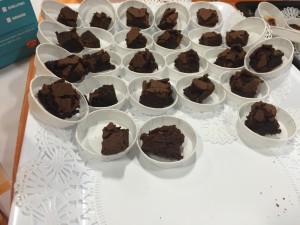 If you don't have the time to bake brownies for the bake sale, these are the brownies for you.  They were by far the best pre-made brownies there!  They're peanut, soy, tree nut, sesame seed, casein, dairy, and wheat free.  A bonus is that Wholly gluten free makes their products in a gluten, wheat, dairy, egg, soy, nut, and casein free environment for those who are super sensitive!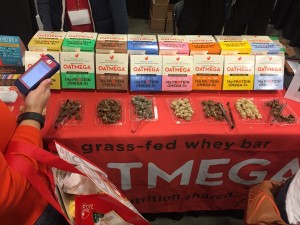 Although these bars contain whey, a product of dairy, my mother tried them and said they were amazing.  They were almost like a cookie but crammed with protein and fiber.  The flavors she recommends are the chocolate peanut crisp and the lemon chia.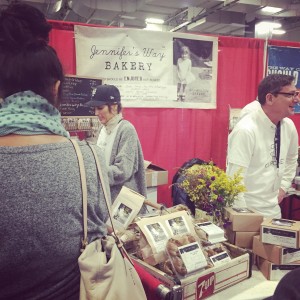 One of the most favorite stands was  Jennifer's Way.  Jennifer Esposito, the
creator of Jennifer's Way delicious food founded a store in NYC dedicated to gluten free, refined sugar free, and dairy free desserts and breads!  Jennifer was a pioneer in the gluten free world and a great role model for many!  Her products are truly astonishing.  I have visited her store multiple times and always am amazed of how flavorful her food is.  My favorite products are her pumpkin chocolate chip muffins and sesame seed small dinner roll.
Everything about this company was adorable!  I tasted their double vanilla cupcake  and immediately fell in love.  Their products are dairy free, egg free, nut free, gluten free, soy free, sesame free, vegan, and a wonderful part – customizable!  So if you have an event coming up, it is the place to order your next cake or cupcakes.  And I say, "Mo pweeze!"
Lots and lots of great foods!  And great alternatives when you need to step aside from the kitchen (for just a bit)!