I am often asked what I think is the perfect summertime treat.  Without a doubt – sorbet!  Sorbet is not only an incredibly easy dessert to make at home, requiring very few ingredients, but also, perfect for every age group – children, adults, and elders.  It is especially great for those with many food intolerances and allergies.  It just hits the spot for those who aren't looking for a dessert that's too fruity,  too tarty, or heavy (like my family!).  A true crowd pleaser!
In Italy, people generally have "sorbetto" in the summer to finish a meal.  In other fine dining instances, small amounts of sorbet, called the "intermezzo", are served between courses.  It is considered a palate cleanser, and prepares your taste buds for the next course.  Either way, it is a delicate part of any meal, and with the mint, it instantly places a refreshing taste in your mouth.  At the end of your spoonful, there's a very subtle tang from the lemon which is softened by the sugar, and if you choose, honey.  You can get this summer hit made within 45 minutes (freezing not included)!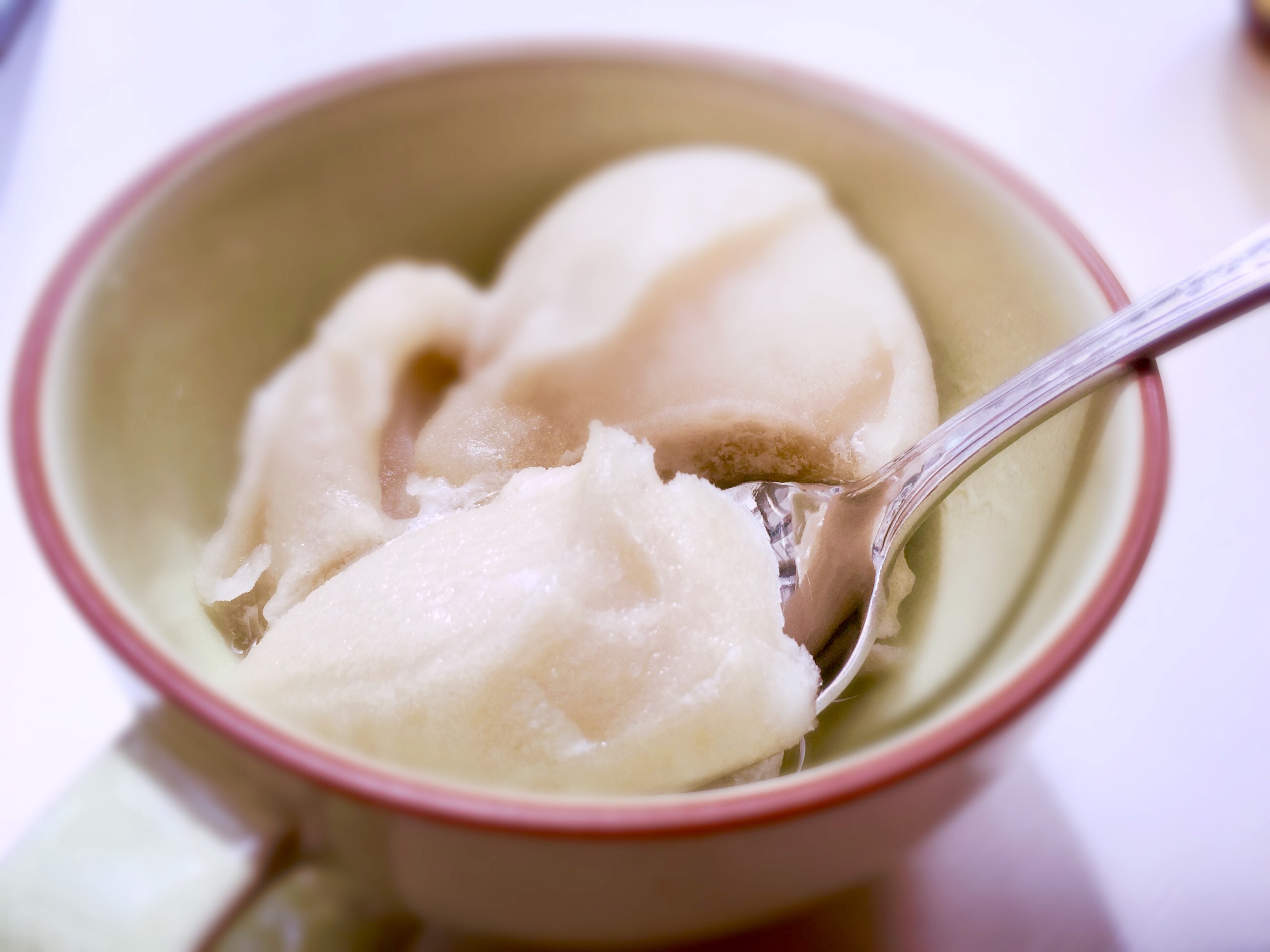 I like to grow organic mint in my backyard, so I harvested a fresh bunch of it, but mint is readily available at most supermarkets. I started with The New York Times mint lemon sorbet recipe, altering it so it would be made in less time, yet more flavor.  Enjoy!

Mint Lemon Sorbet (Vegan)
Author:
Kayla (minimally altered from NYT)
Ingredients
2 cups water
2 cups sugar
5 bunches of clean/rinsed mint (with stems)
½ cups lemon juice
½ tsp salt
2 drops mint essential oil (edible version) OR 1 tsp mint extract
Optional
Instructions
Stir water, sugar, and mint in a microwave safe glass bowl. Place in microwave, uncovered, and cook at high power for 3 minutes.
Stir thoroughly, making sure the sugar has dissolved. Cover with microwave safe plastic wrap, and puncture several holes with fork, and cook for 6 minutes. Meanwhile, prepare an ice bath.
Remove the bowl, and uncover. Place in ice bath until room temp & add essential oil or extract. Strain through a fine sieve, and place in freezer for 20 minutes.
Whisk lemon juice into syrup, and place in ice-cream machine for around 25 minutes. With the last five minutes, add salt, and honey. Freeze according to manufacturer's instructions.