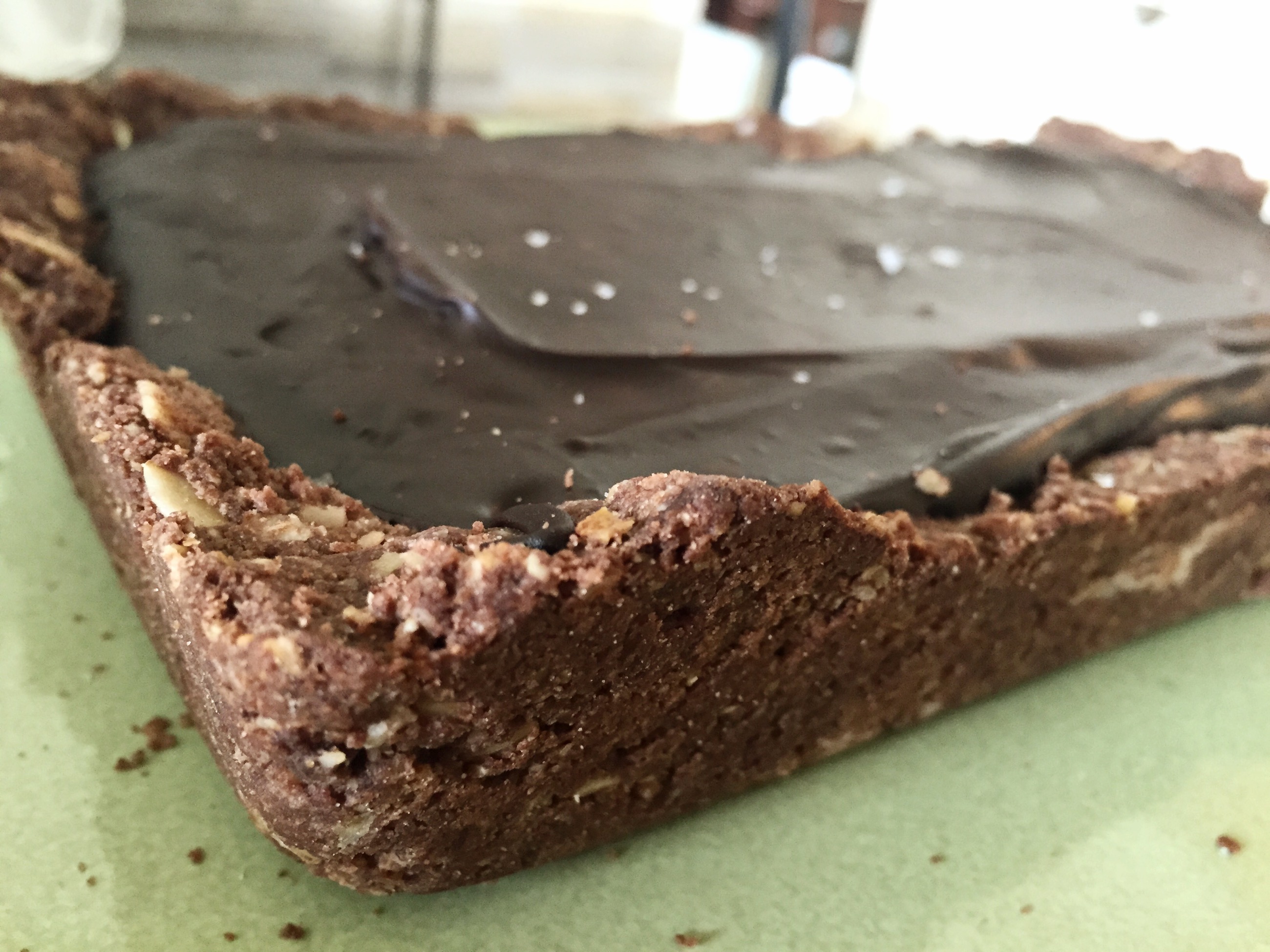 Many can agree that nothing is quite as good as chocolate, and this tart is no exception!  This Easter, I was a little stuck on what recipe I should make.  I came across a vegan chocolate tart on Bon Appétit, and decided I must make it!  Within an hour, you'll have an instant crowd pleaser!  To make it gluten free friendly, I just swapped their whole wheat flour for a normal gluten free flour blend, and oat flour to make the flour consistency heavier.  Also, I used maple syrup (grade A, dark amber) instead of light agave syrup, but you can use either one.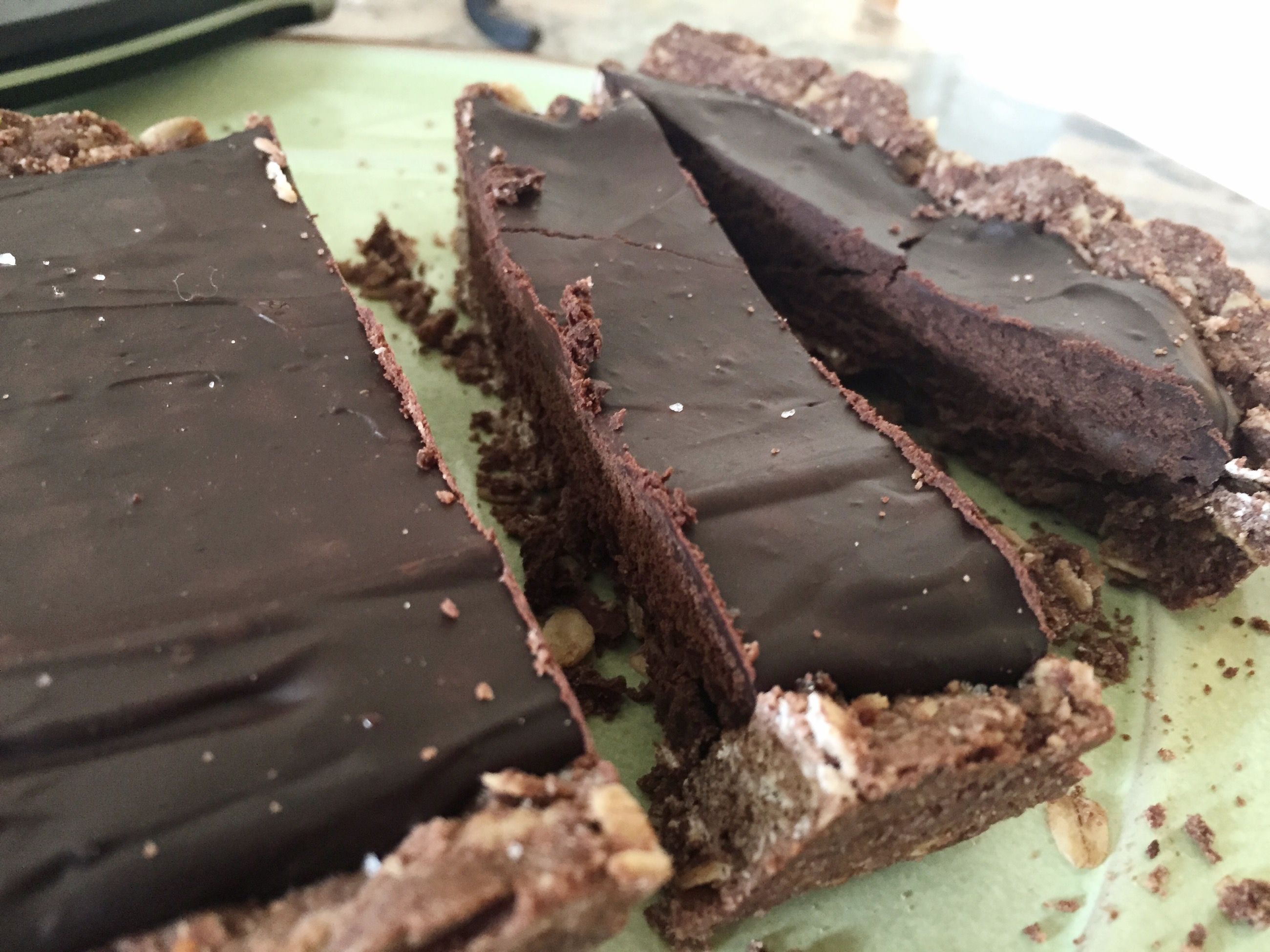 The crust is crispy and hearty with oats, and a little chocolate flavor.  The filling is super rich and creamy which is why I cut the tart in small pieces.  Warning: You will go back for more!  When you bit in, you get the crumble from the crust, and smoothness from the filling which is quite a pleasure to eat!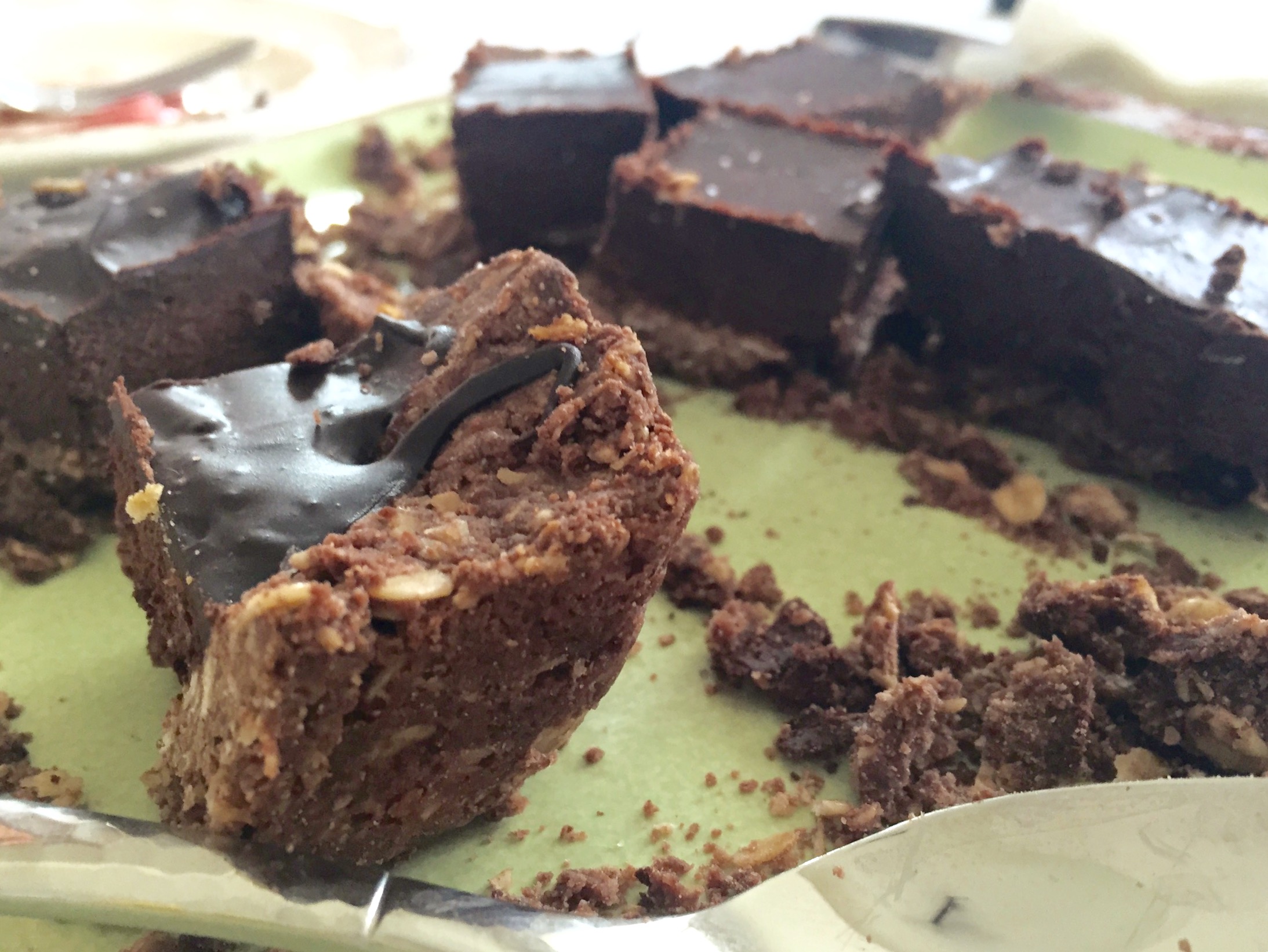 The coconut oil helps the chocolate melt into your mouth, and the little amount of espresso enhances the chocolate flavor.  This recipe heavily depends on the quality of cocoa powder you use.  For such a chocolatey dessert, I recommend Valrhona's cocoa powder – it is such a treat to use and eat!  For the actual chocolate, if you really want it to be dark, use about 4 out of the 7 oz in 100% chocolate.  Don't worry – the filling will still be sweet!  I also sprinkled flaked sea salt on top, which is delicious.
Enjoy this recipe!
NOTE: Depending on the size pan you use, you might have extra filling left.  If you do, Bon Appétit recommends you use it for truffles, or I recommend melting some of it (if it isn't already melted), and mixing it in with almond butter!

Vegan Chocolate Tart
Author:
Kayla (slightly adapted from Bon Appétit)
Cuisine:
Vegan, gluten free
Ingredients
Crust
1¼ cup oats
½ cup gluten free flour blend
¼ cup oat flour
⅓ cup coconut oil, melted, slightly cooled
¼ cup maple syrup
2 tbsp unsweetened cocoa powder
¾ tsp kosher salt
½ tsp cinnamon
Filling
½ tsp espresso powder
1 cup unsweetened cocoa powder
7 oz dairy free dark chocolate, melted, slightly cooled
⅔ cup maple syrup
2 tsp vanilla extract
⅔ cup coconut oil
¼ tsp kosher salt, plus more
Instructions
Crust
Preheat oven to 350 degrees Fahrenheit. Grease (with coconut oil) a rectangular pan, 9 inch diameter pan, or a 13¾ x 4½ inch tart pan with removable bottom.
Pulse oats, flours, coconut oil, maple syrup, cocoa, salt, and cinnamon in a blender until the mixture looks like wet sand.
Firmly press into bottom and up the sides of pan. Bake for 20-25 minutes. Transfer to a wire rack; let cool.
Filling
Dissolve espresso powder in ¾ cup of hot water in a blender. Add cocoa and let sit 5 minutes.
Add melted chocolate, maple syrup, vanilla, coconut oil, and1/4 tsp salt. Pulse for 30 seconds,
Scrape filling into cooled tart shell and smooth top. Add sprinkled salt on top.
Chill in refrigerator for at least one hour. Bring out 15-20 minutes before serving.
Notes
Tart can be made 2 days ahead. Keep it chilled.