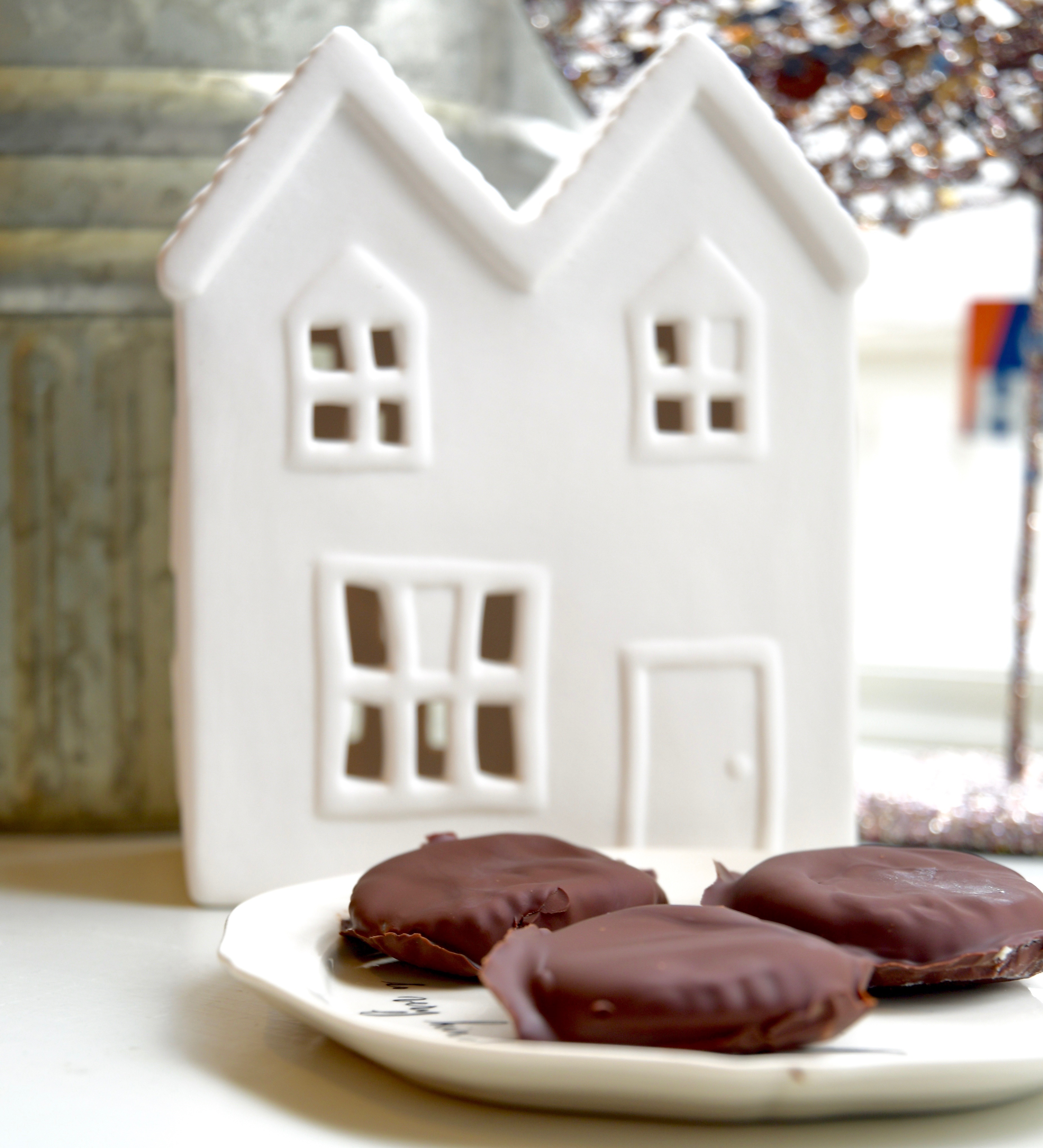 When I think of Winter Wonderland, peppermint and candies comes to mind.  It just so happens that peppermint patties are one of the easiest and homemade friendly candies to make.  With just a few ingredients, you can make creamy, fresh and minty candies everyone can enjoy for the holidays!
It started with my brother's love for the York Peppermint Patties.  When I took a look at the ingredient list, I wasn't pleased with what he was putting into his body.
This is the ingredient list:
Sugar, Corn Syrup, Semi-Sweet Chocolate (Chocolate, Sugar, Cocoa, Milk Fat, Cocoa Butter, Soy Lecithin, PGPR, Emulsifier, Vanillin, Artificial Flavor), Invert Sugar, Egg Whites, Oil of Peppermint, Milk.
There are 6.5 teaspoons of sugar in each serving.
It contains corn syrup, which is extremely processed (it is not naturally occurring).
Soy lecithin is an additive.
PGPR which is Polyglycerol polyricinoleate – a chemically produced emulsifier.
Vanillin is a synthetic and cheaper version of real vanilla that food companies use to cut down on manufacturing prices.
Artificial flavor speaks for itself 🙂
Luckily, there's an alternative.  Let's take a look at how you can get super fresh, and even better tasting peppermint patties by ohsheglows.com with simple ingredients!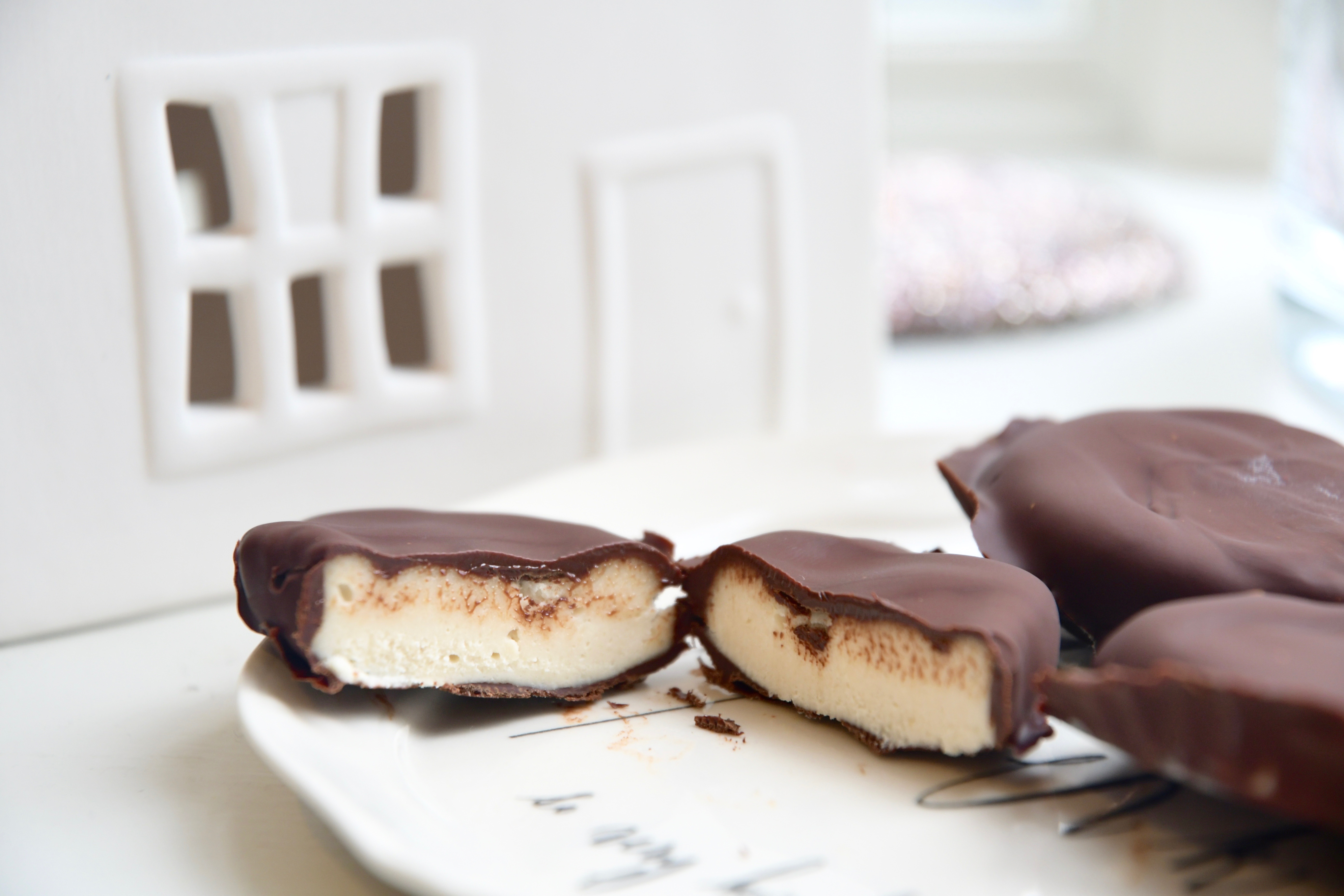 Once you bite into them, the chocolate breaks apart and the peppermint flavor melts in your mouth.
They taste:
Authentic,
Refreshing,
Luxurious.
Peppermint patty lover or not, these treats please even the harshest critics at your holiday table.
Enjoy!
Bonus: They have healthy fats from the cashews, coconut oil, and nut milk.  Plus, they are refined sugar free (if you're chocolate is).

Vegan Peppermint Patties
Author:
Angela Liddon (slightly altered)
Recipe type:
Vegan, Gluten-free, Soy-free
Prep time:
Cook time:
Total time:
Ingredients
½ cup raw cashews (soaked for 2-3 hours)
½ cup coconut oil, melted
3 tablespoons maple syrup
2 tbsp almond milk or coconut milk
1 tsp peppermint extract or 5 drops edible peppermint essential oil (like Young Living)
¾ cups vegan dark chocolate melted
½ tbsp coconut oil
Instructions
Place cashews in a bowl and cover with water, and let soak for 2-3 hours with warm water.
Drain and rinse the cashews after soaking.
In the blender, add the cashews, melted coconut oil, maple syrup, milk, and peppermint extract or peppermint essential oil. Blend on high speed.
In a mini lined cupcake pan, place ½ tbsp peppermint filling in it. If you don't have a mini lined cupcake pan, use a normal one and place 1½ tbsp of peppermint filling in it. Freeze for 25-30 minutes.
Melt the chocolate in the meantime, 30 second intervals in the microwave, mixing in between. Add the ½ tbsp of coconut oil at the end and mix.
Quickly remove the patties out of the refrigerator (and cupcake liner) and dip into the chocolate. Then put them back onto the liner, and into the freezer.
Eat them!