After finals, all I wanted to do was eat comfort food.  And after seeing one of my friends enjoy their french toast at a bakery, I realized that I hadn't eaten french toast in the longest time… So, I realized that it was time for me to make french toast (vegan and gluten-free) with an innovative coconut twist and a 5-ingredient salted caramel sauce to top it off.
A question some of you may be thinking is, Why am I hungry after taking a test?  When cortisol levels are high, so is appetite.  Harvard Health Publications explains that when you're stressed, the brain produces a corticotropin-releasing hormone, which suppresses appetite, and your kidneys pump out adrenaline; the adrenaline puts your body in a "fight-or-flight" position that pauses the need to eat.  It's not until the stress persists that your adrenal glands release cortisol, which ultimately increases appetite.  To reduce cortisol levels, try eating foods with Omega 3 fatty acids like flax seeds and nuts.  I added in flax seed meal to the french toast batter, and incorporated nuts in the mixed nut butter, one of the ingredients for the salted caramel sauce.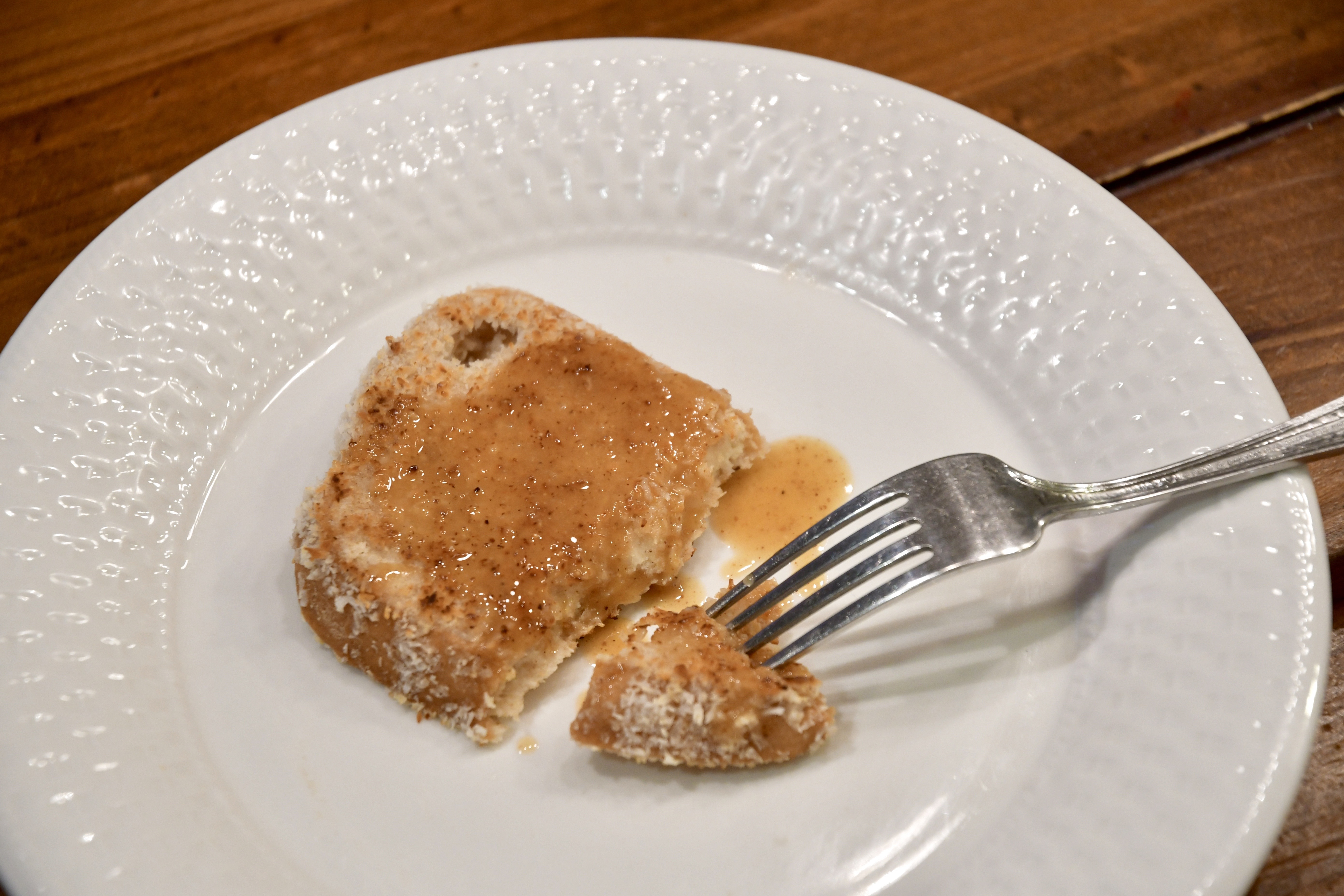 Crunchy and flakey outside, and doughy inside with coconuty flavor throughout, this french toast is super decadent and quite frankly, tops the traditional french toast.  The coconut gives the french toast a summery vibe, and with the simple salted caramel topping, it tastes just like cake (but without the super rich ingredients).  It hits the spot – whether you're having it to recover from a big test, or just enjoying it for a relaxed Sunday breakfast 🙂

Coconut Flaked French Toast and Salted Caramel Sauce (V + GF)
Cuisine:
Vegan, Gluten-free
Prep time:
Cook time:
Total time:
Ingredients
Toast
10 pieces of gluten-free bread slices (I used Schär)
1 cup almond milk
¼ cup gluten-free flour blend
1 tbsp tapioca starch (or potato starch)
1½ tbsp flax seed meal
2 tsp vanilla extract
1 tsp cinnamon
¼ tsp salt
1 cup shredded coconut
Salted Caramel Sauce
2 tbsp coconut oil
2 tbsp maple syrup
2.5-3 tbsp mixed nut butter (Trader Joe's)
½ tsp vanilla extract
pinch of salt
Instructions
Toast
Mix together all the ingredients for the toast (minus the bread slices and coconut flakes). Soak the bread slices in the batter.
On a plate, level out the shredded coconut. Place the soaked bread slices on to the shredded coconut on both sides.
Meanwhile, heat a pan (greased with coconut oil) on medium heat. Place the soaked and "breaded" slices on the pan to cook for approx. 4 minutes on each side. Repeat with the other slices.
Salted Caramel Sauce
Mix the ingredients for the sauce.
Notes
You can refrigerate them for roughly a week.
Vanilla-y, coconut-y, and caramel-y, this coconut flaked french toast is delicious, and a perfect way to start off your summer breakfasts.
Works Consulted
http://www.health.harvard.edu/newsletter_article/why-stress-causes-people-to-overeat
http://main.poliquingroup.com/articlesmultimedia/articles/article/1260/top_10_foods_that_help_balance_cortisol_for_optima.aspx