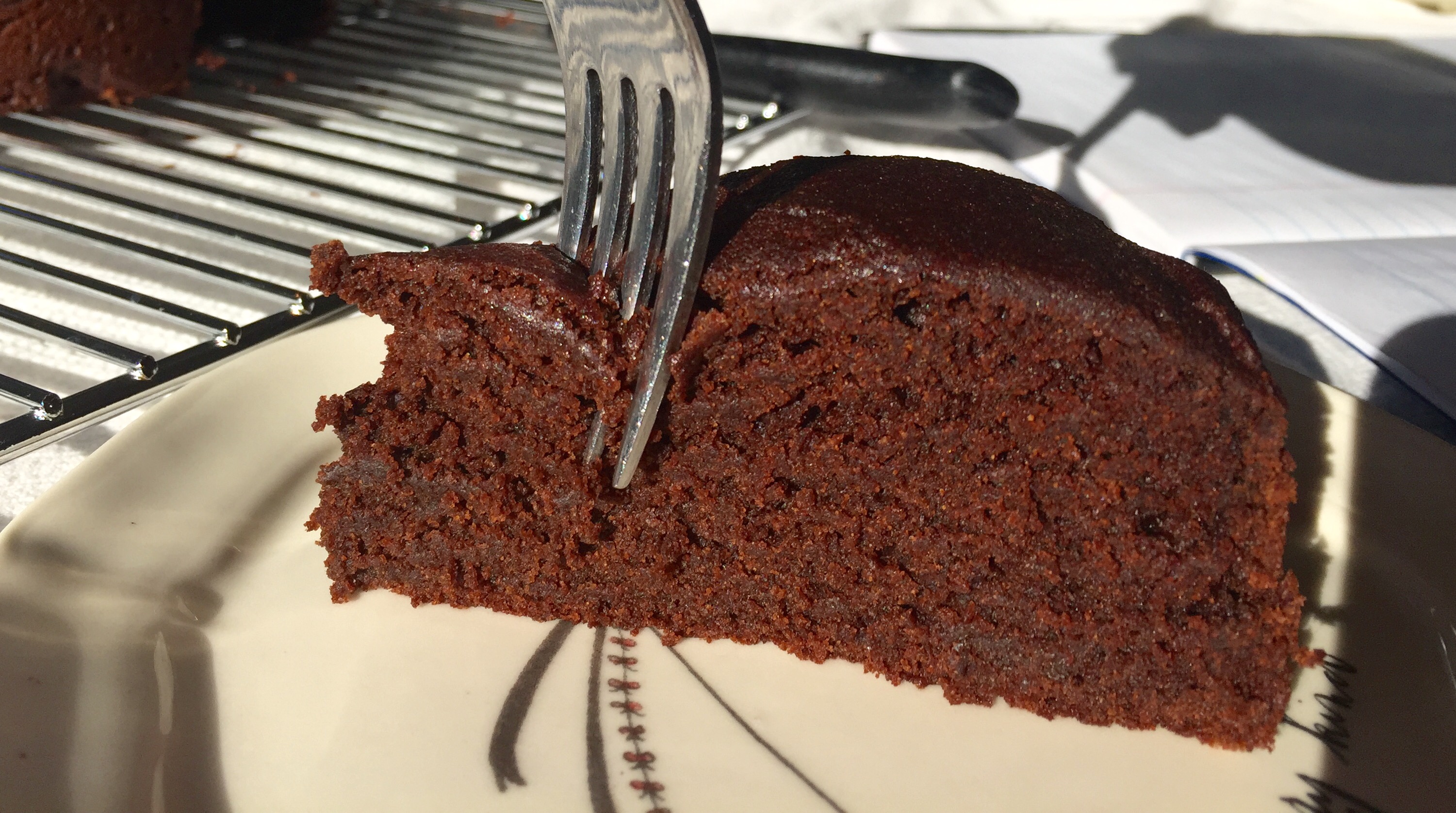 A couple years ago, I attended a young boy's birthday party.  He was no ordinary boy – he was allergic to dairy, eggs, soy, nuts, the whole ordeal.  So, I was extremely curious to see what dessert would be served at his event.  His mom came up to me and offered me a slice of the moistest and most delicious chocolate cake I had ever tasted.
She proceeded to tell me the cake was called the "Depression Cake."  What?!  A cake called the Depression for a kid's birthday party?!
Apparently, it was coined the "Depression Cake" because, during the Great Depression, ingredients like milk, eggs, butter, and sugar were either extremely expensive or hard to obtain.  Despite its rather depressive history, I was extremely eager and excited to whip up my own recipe, except with a gluten-free twist.
The result?  A super chocolatey and fluffy cake.  You can double the recipe to layer it and frost to make a birthday cake, or simply add some spice to make it have a kick.  After playing around with some flours, I was able to adjust the recipe to make the perfect gluten-free vegan chocolate cake!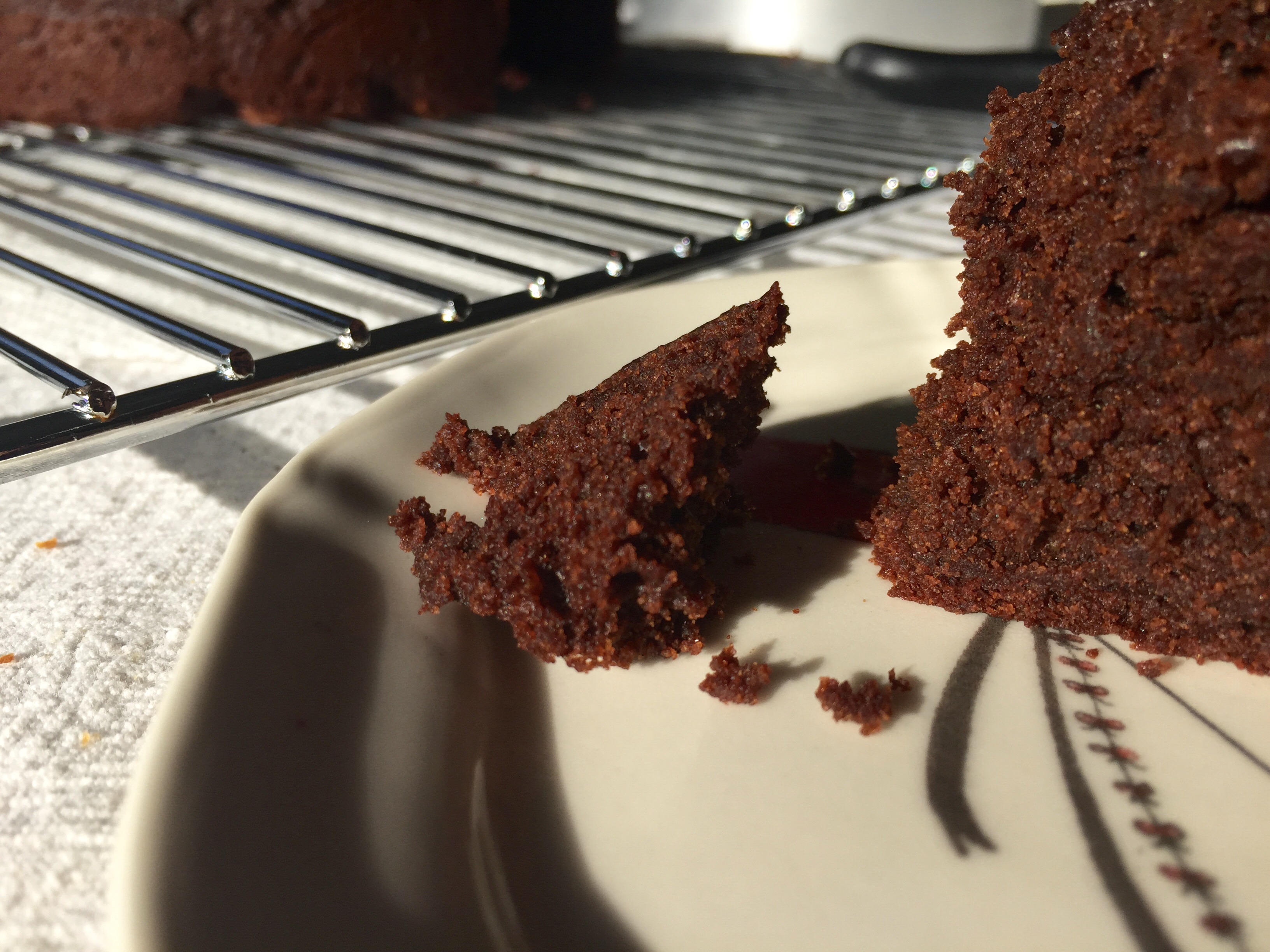 With this chocolate cake, I wanted to still keep it light, but add in some fiber to keep me full.  So I added teff flour because it is actually a complete protein and is rich in iron and magnesium.
Some people wonder why their chocolate desserts do not come out as chocolatey as they would like.  In my opinion, this all comes down to the quality of the cocoa powder you are using.  Make sure to use unsweetened cocoa powder because there is no sugar to take away from the cocoa flavor.  My favorite is Scharffen Berger's natural cocoa powder.
This recipe is very quick and easy to make!  I hope you enjoy it!

Dark Chocolate Vegan Cake (<g class="gr_ gr_59 gr-alert gr_spell gr_inline_cards gr_disable_anim_appear ContextualSpelling ins-del multiReplace" id="59" data-gr-id="59">gluten free</g>)
Author:
Kayla (adapted from Food52)
Cuisine:
Gluten-free, Vegan
Prep time:
Cook time:
Total time:
Ingredients
350g gluten-free all-purpose flour
25g teff*
¾ cup sugar
¼ cup cocoa powder
½ tsp salt
1 tsp baking soda
1 tsp vanilla ectract
1 tsp apple cider vinegar
⅓ cup grapeseed or coconut oil
1 cup warm water
Optional
dash of red pepper and nutmeg
Instructions
Preheat oven to 350 degrees Fahrenheit.
Combine all the dry ingredients in a large bowl.
In a medium bowl, mix all the wet ingredients together, and add the wet ingredients to the dry.
pour batter into an 8 inch circle pan.
Bake for 35 minutes.
Notes
* or do 375g gluten-free all-purpose flour