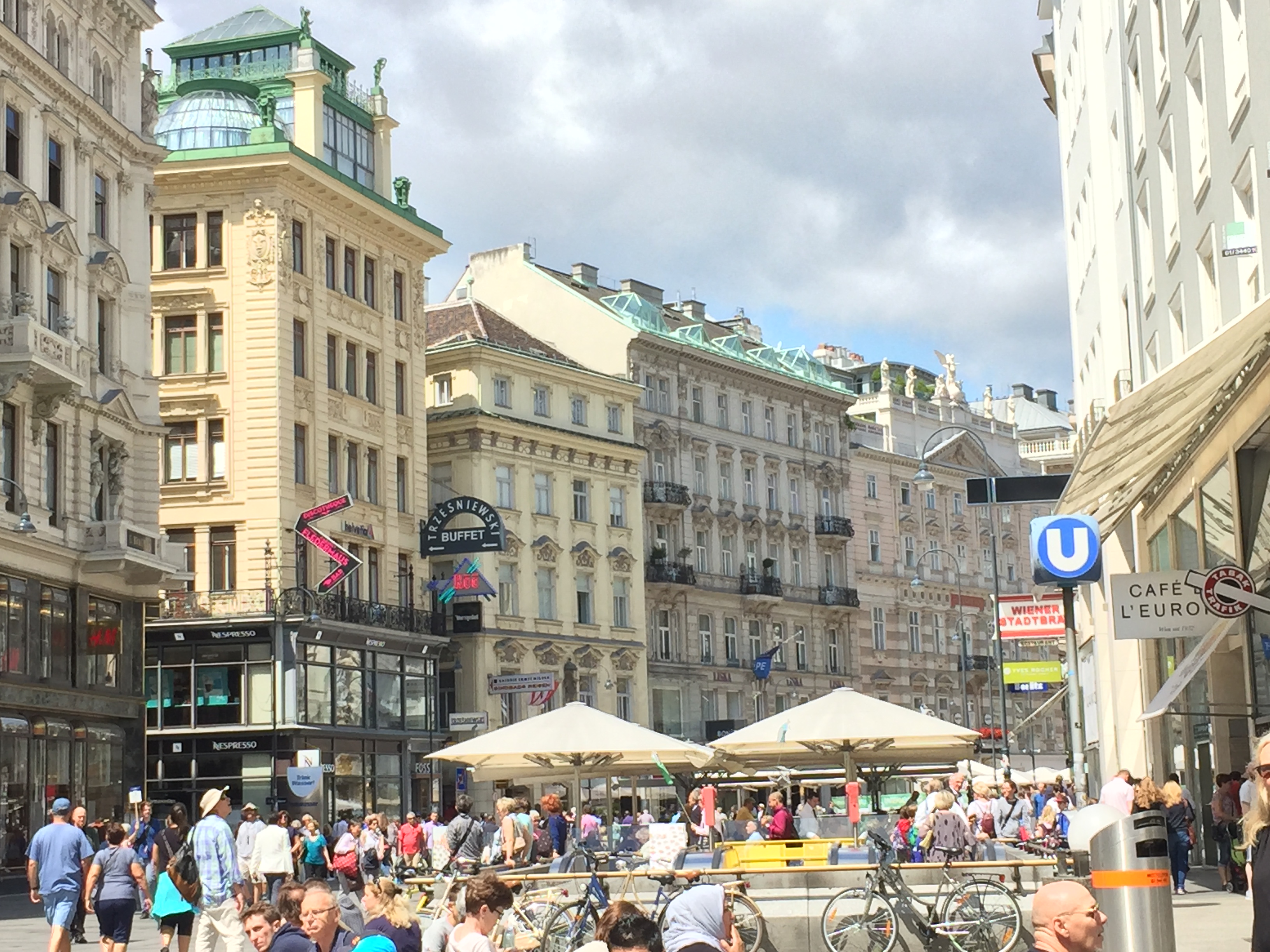 Vienna is full of wonderful delights in many ways.  Rich in exquisite art, music, and history, it's not surprising that their foods fall on the same high level.  Going around the city, we stopped by some classic restaurants, and my family tried out some foods (with gluten and dairy), giving me the rating.  While a beautiful city, there aren't necessarily that many gluten-free or vegan dedicated restaurants; their traditions (such as schnitzel) are deeply rooted in the city's veins.  For this reason, I've drawn a list of classic Viennese restaurants and foods, as well as restaurants and foods that are gluten-free/vegan.
Before going into the restaurants, here are a couple of phrases you may find useful when ordering food:
Kann ich eine flasche wasser (mit gas) bitte? Can I have a bottle of water (with gas) please? 
Ich bin gluten-frei/milch-frei/vegan.  I am gluten-free/dairy-free-vegan.
Ich nehme ___ mit/ohne ___ bitte.  I'll take ___  with/without ___ please.
Ein anderer, another
Danke, thank you
The Classics – Foods and Restaurants
Pretzels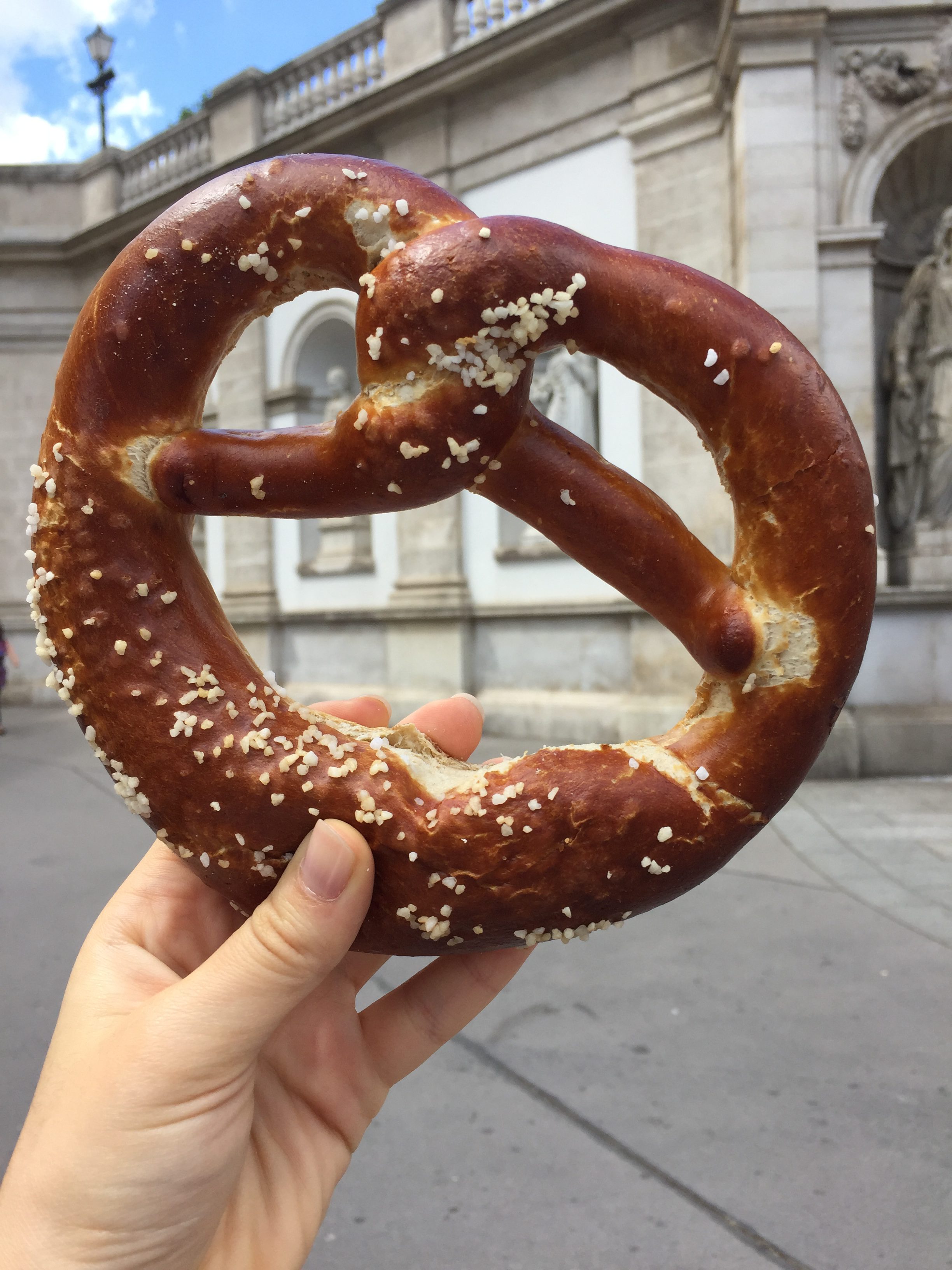 In almost any bread bakery in Austria, you can grab a pretzel, or how it's said in German, "brezel." With sesame seeds, pumpkin seeds, or just salt as my brother likes to take it, these pretzels are truly amazing.  Just imagine – crusty outside and fluffy inside.
Sacher Torte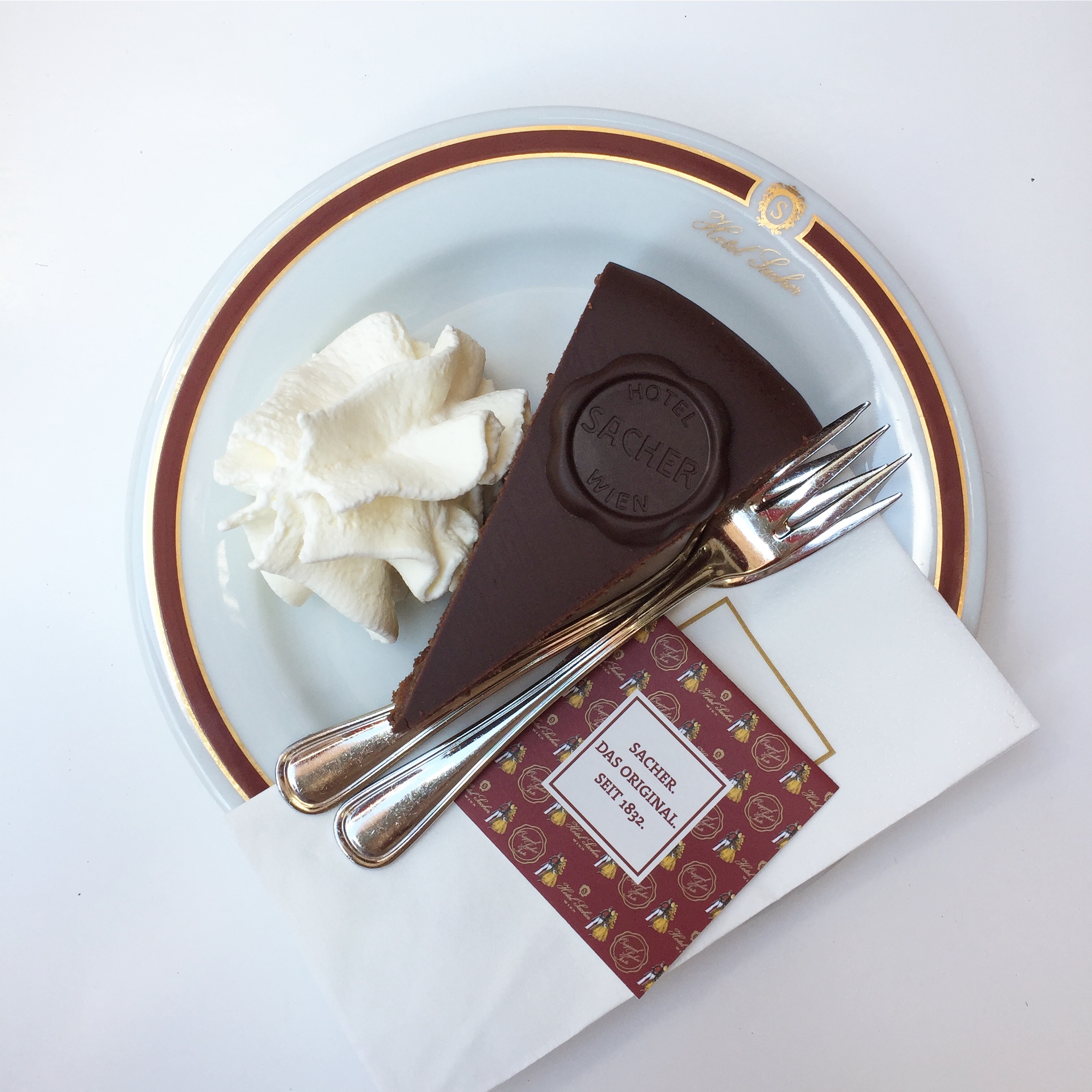 The Sacher Torte may be one of the most celebrated chocolate cakes of all time.  Although I didn't eat the Sacher cake, my dad did, and remarks that it was not as good as he remembered.  Nonetheless, people usually love the cake.  If you don't have time in your schedule to stop by Hotel Sacher or you loved the cake, you can buy a full cake at the Vienna airport (for a hefty price of course).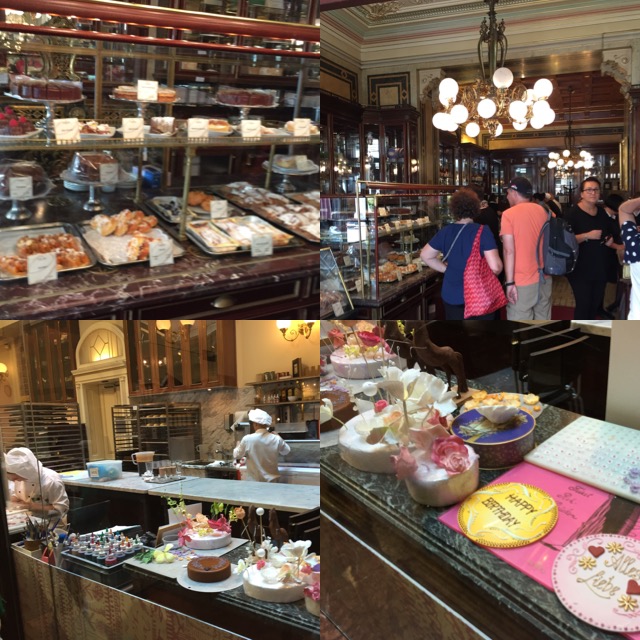 Cafe Demel is one of the oldest bakeries and cafes in all of Vienna, having been founded in 1888.  They have an array of chocolates and pastries, including a vegan chocolate-orange cake.  Whether you eat here or not, it's definitely a place to stop by.  Decorated in its authentic baroque-like structure, the interior of Cafe Demel itself is worth taking a look at.  Even better, you can take a look at the bakers meticulously form chocolates, and candy "jewels."  It was such a treat to watch!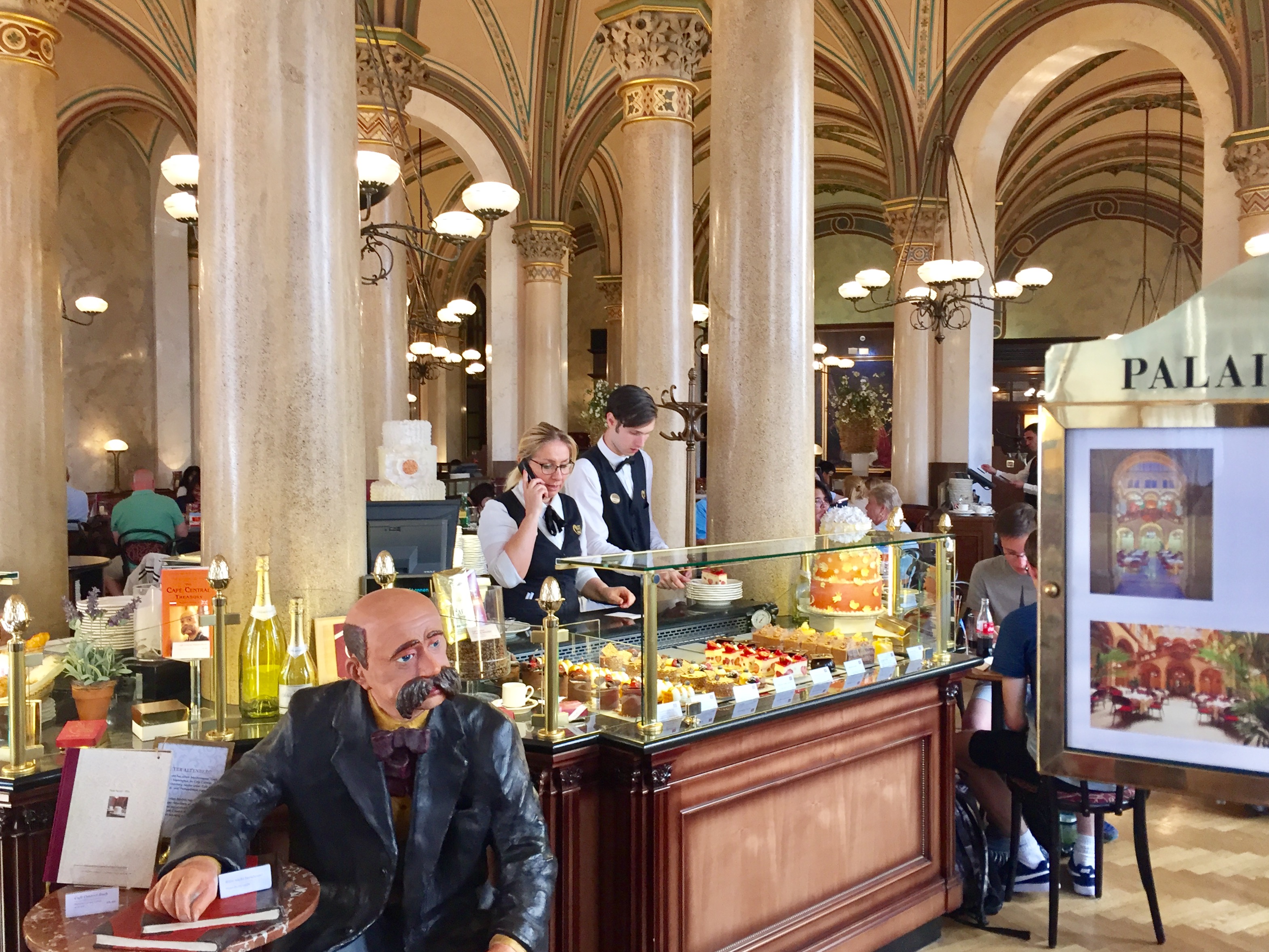 Ever since 1847, Cafe Central has been a go-to cafe in Vienna, having been a place where intellectuals (think Sigmund Freud) used to converse.  My dad ordered a coffee and an "apfel" (apple) streusel, and said it was good.  Going to Cafe Central is much more than a food experience.  There's attentive waiters, beautiful high ceilings with arches, and a live piano in the background – perfect for the afternoon snack break, especially after a long day of touring the city.
---
Vegan + Gluten-free Foods and Restaurants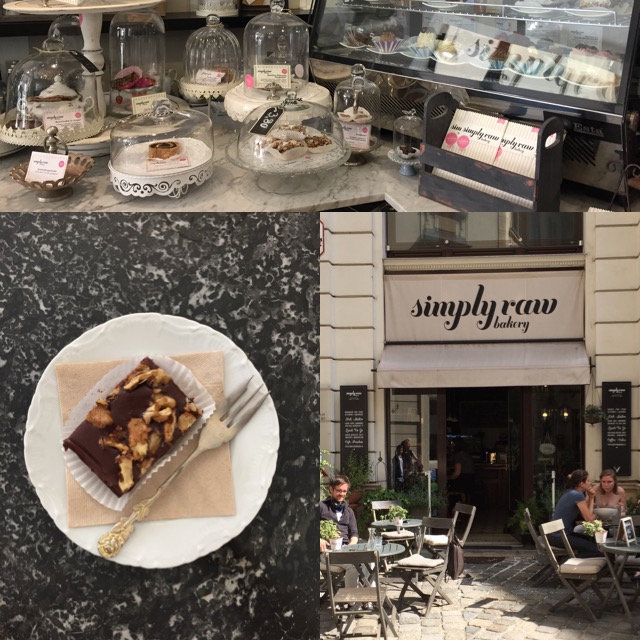 I was lucky to stumble upon this adorable raw bakery called Simply Raw on a quiet street in Vienna.  It was my first day in the city so I was having a little bit of "America withdrawal."  The raw bakery was extremely fun, and cutely decorated; there was an assortment of cupcakes, small chocolates, smoothies/juices, and coffee.  You could even order lunch there as they have soups and bruschetta, among other dishes.  Decorating the small space  were vintage cabinets, vintage silver spoons as well as quaint tea cups.  All the workers were smartly dressed with a striped ballet top, dark jeans, small scarves, topped with a Panama hat.   I ordered a raw gluten-free vegan fudge walnut brownie, and I am now determined to make my own – so keep your eyes open for a recipe 🙂  My mom ordered a chia pudding with fruit.  Definitely a must-go!
I can live on desserts, but at a certain point, a proper meal is needed.  Swing Kitchen, a vegan fast-food restaurant with three locations across Vienna, is absolutely delicious, and quite frankly, most populated by American customers, as well as the artsier Austrian crowd.  They have burgers, falafels, nuggets, salads, and of course desserts such as cheesecake.  My dad and I ordered the Swing burger (but avoided the bun), my brother the falafels, and my mother ordered the nugget salad.  We each interchanged our foods, and the nuggets were the best nuggets ever (I remind you, they were vegan and gluten-free)!
Safe bets:
While I didn't take a picture, a safe bet when traveling to cities with food restrictments are sushi restaurants.  We went to Shiki, which was on the higher end side, and delicious, I ordered a sashimi bowl.  A more affordable option is NihonBashi, which was also very fresh and authentic.  For vegan options, there are cucumber rolls and avocado rolls.  Be careful with gluten-free choices because soy sauce contains gluten.
As odd as it may sound, another tip is to stop by a supermarket.  I recommend a few things:
Loaf of gluten-free bread, along with some marmalade or nut butter for breakfast.  You can explain to a hotel that you have a specific diet, and they'll allow it – trust me.
Dairy-free yogurt for breakfast on-the-go
Pre-made salad or a salad bar; big salads are quite rare in Vienna, and if you happen to find one, it's most likely over-priced.  Grabbing a salad at the supermarket is a smart way to save money.
Hummus + carrots is a good way to pack in some protein, and at the same time, is a neat snack for sightseeing
I thoroughly enjoyed my time in Vienna, and it was nice to discover new places and twists on food!