Perhaps one of the best food related things about Fall is the beverages: the coffee cups warming your hands on your way to work, the pumpkin spiced latte on your break, the list goes on.  Sometimes, instead of entering out in the cold to get your fix of these beverages, make it at home and make it better health and taste wise!  All you need is a coffee creamer base to transform it into your favorite beverage.
This vegan coffee creamer is easy to make, but if you have doubts about making it, maybe looking at the ingredients popular coffee creamer Coffeemate will change your mind:
Water, Corn Syrup Solids, Vegetable Oil (High Oleic Soybean and/or Partially Hydrogenated Soybean and/or Partially Hydrogenated Soybean and/or Partially Hydrogenated Cottonseed), and Less than 2% of Sodium Caseinate (a Milk Derivative)**, Mono- and Diglycerides, Dipotassium Phosphate, Artificial Flavor, Carrageenan. **Not a source of lactose.
When looking at this, it's hard for me to begin!  When corn syrup is an ingredient in a product, it is guaranteed that the product is of poor-quality and filled with empty nutrients; corn syrup contains contaminants such as mercury which are not regulated by the FDA,  and its high in fructose – overall, it's a big no-no.  Vegetable oil is extremely processed, and do you really want cottonseed in your coffee?  Under Canadian law, dispotassium phosphate is classified as "low human health priority" and in 2012, a study declared phosphates in general dangerous as accumulated phosphates can cause kidney failure.  Artificial flavor speaks for itself, and finally, researchers have recently discovered that carrageenan is linked to cancer and ulcerations.
Enough of the bad news, what you now need is this recipe to make the most delicious and creamy vegan coffee creamer there is 🙂

Vegan Coffee Creamer
Cuisine:
Vegan, refined sugar free
Ingredients
1 cup cashews (soaked for 5 hours or overnight, then drained)
2½ cups water
3 tbsp oats
½ tbsp maple syrup
1 tsp vanilla
¼ tsp cinnamon
Instructions
Blend all the ingredients together in the blender on high for about 3 minutes.
Place a cheesecloth on top of a sieve (with a bowl underneath). Pour half the batter onto it and wring the cheesecloth until you have almost all the liquid out. Repeat with the second half. Save the remaining thicker mixture.
---
Now onto the fun part, making your pumpkin spice latte!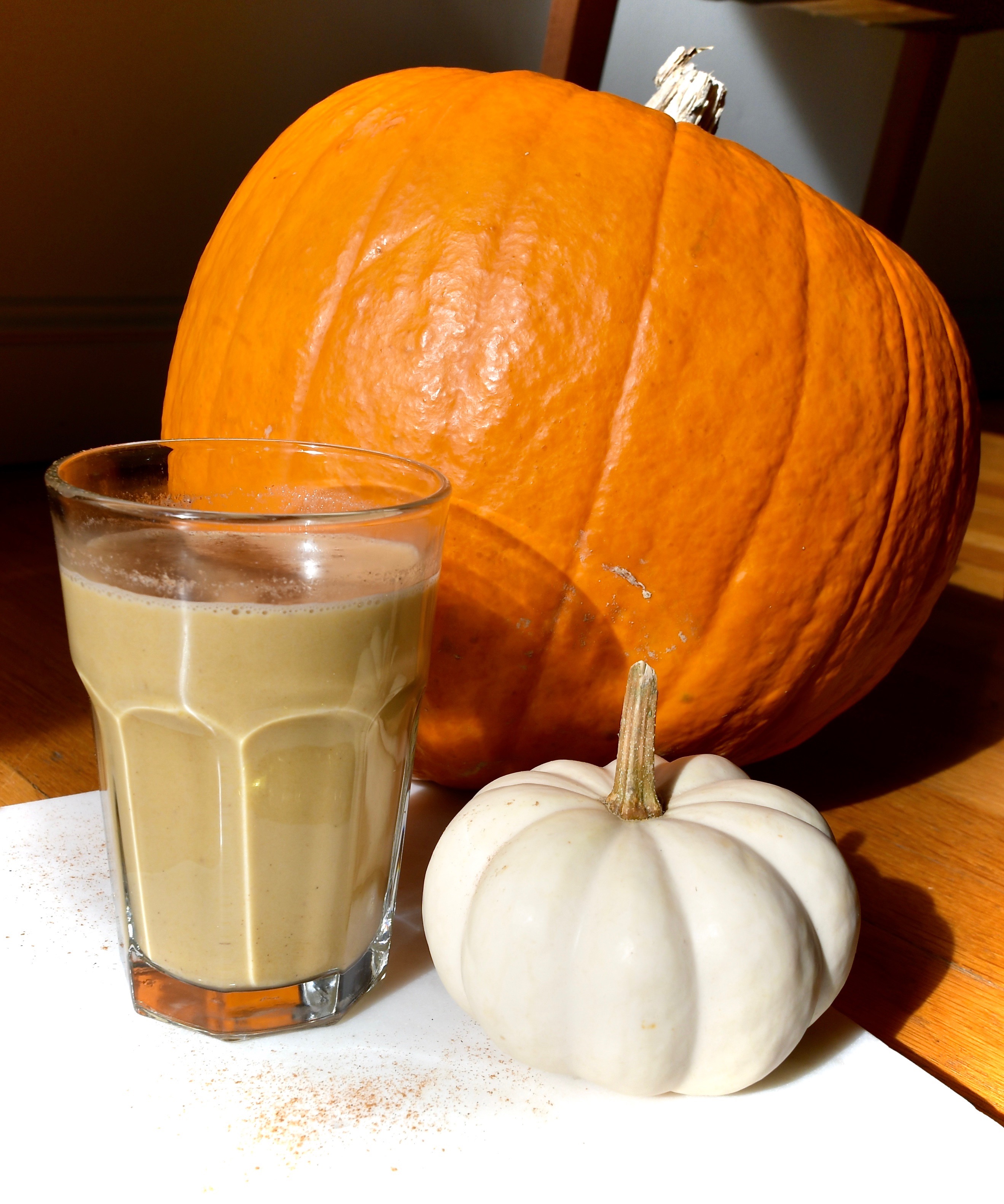 This latte is sweet, spiced, and better than nice!  It's super creamy, and filled with real pumpkin which creates a much better and simpler beverage than Starbucks's Pumpkin Spice Latte.  These are Starbucks' ingredients:
Milk, Pumpkin Spice Sauce [Sugar, Condensed Skim Milk, Pumpkin Puree, Contains 2% Or Less Of Fruit And Vegetable Juice For Color, Natural Flavors, Annatto, Salt, Potassium Sorbate], Brewed Espresso, Whipped Cream [Cream (Cream, Milk, Mono And Diglycerides, Carrageenan), Vanilla Syrup (Sugar, Water, Natural Flavors, Potassium Sorbate, Citric Acid)], Pumpkin Spice Topping [Cinnamon, Ginger, Nutmeg, Clove, Sulfiting Agents].
These are the ingredients for this Vegan Pumpkin Spiced Latte:
Serves 1
1 cup vegan coffee creamer
2 1/2 tbsp pumpkin puree
1 1/2 tbsp maple syrup
1 tsp vanilla extract
1/2 tsp pumpkin spice
1/2 cup brewed coffee
Instructions:
In a heat-proof bowl on top of a small saucepan with water, place all the ingredients and stir until well combined (about 3 minutes at medium heat).
Add in the coffee and continue to stir for about 2 more minutes.
Transfer into a cup and enjoy!
---
With your remains of making your coffee creamer (the thicker part, "cashew meal"), you can add it into a waffle recipe to make it tastier, or even turn it into a delicious Coconut Vegan Yogurt!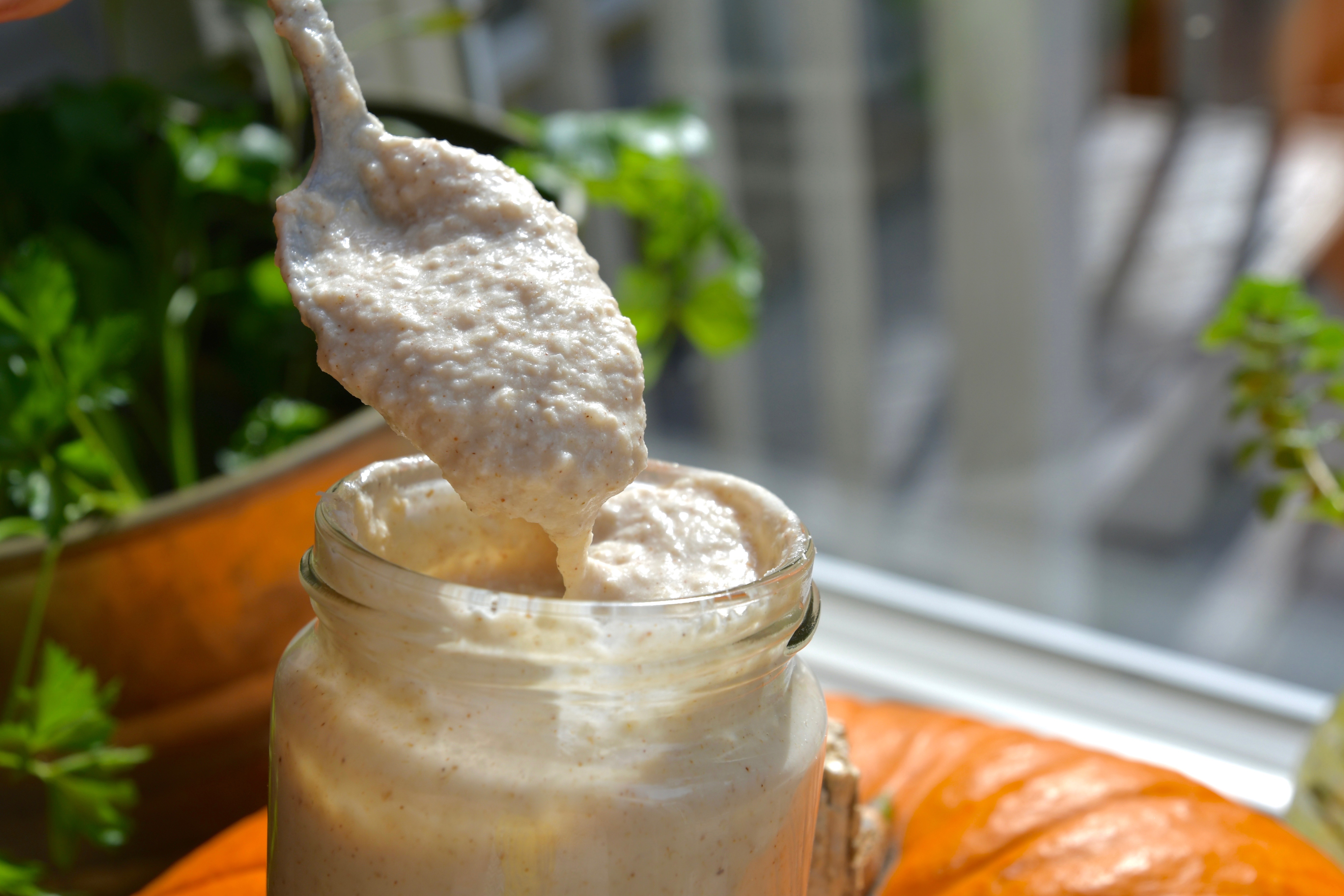 It's thick, rich, but clean on the palate.  Plus, it makes the perfect breakfast.
Ingredients:
all of the "cashew meal"
1/2 tbsp coconut oil
1/2 tbsp lemon juice
2 tbsp honey
2 tbsp coconut flakes
Instructions:
Hand mix all of the ingredients, and place into a jar.
Refrigerate.
---
Works Cited
Https://www.facebook.com/drmarkhyman. "5 Reasons High Fructose Corn Syrup Will Kill You – Dr. Mark Hyman." Dr Mark Hyman. N.p., 11 Nov. 2015. Web. 06 Nov. 2016.
Schafer, Anna. "Is Disodium Phosphate Bad for You?" Healthline. Healthline, 05 May 2015. Web.