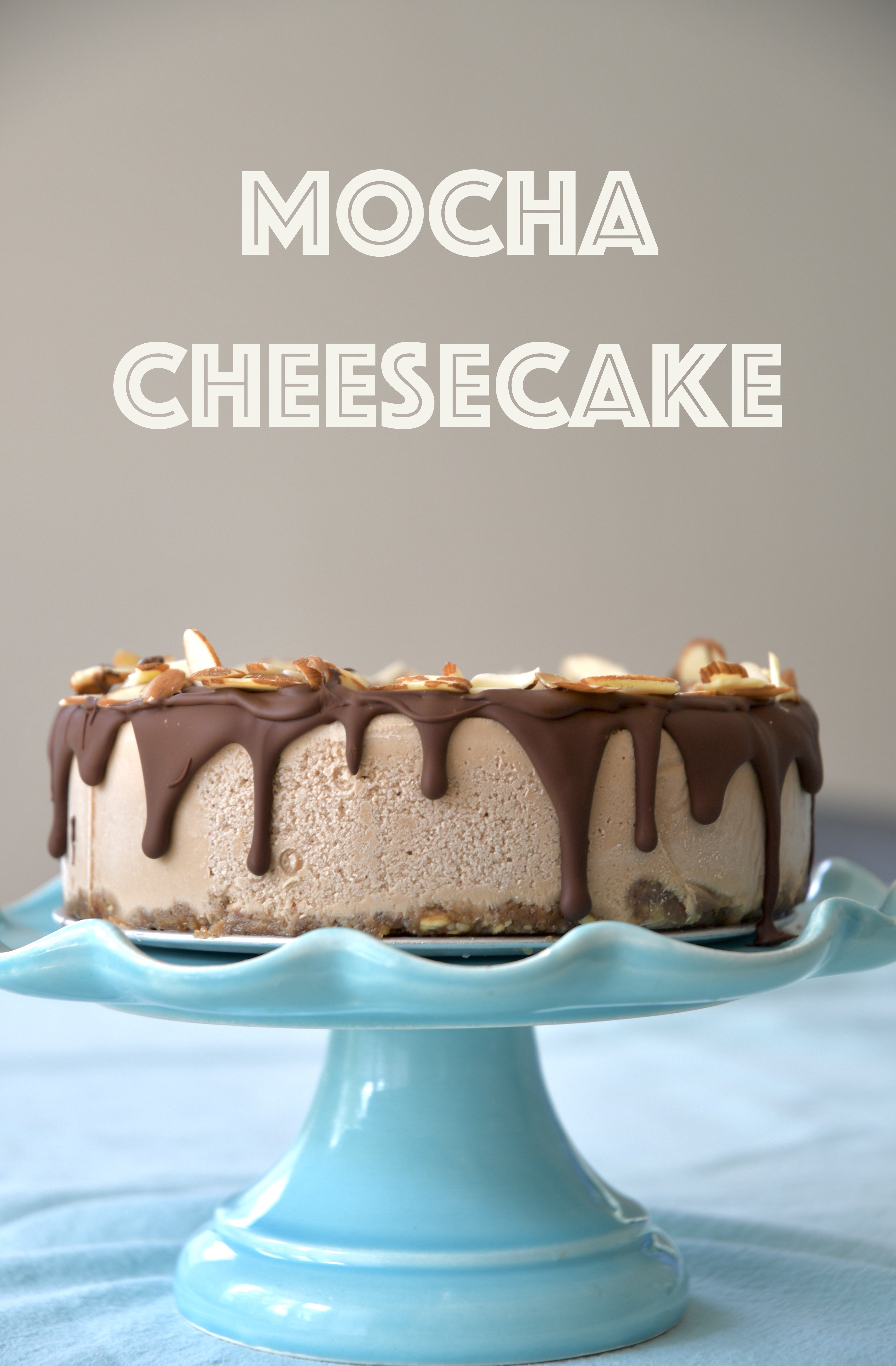 When my cousin's birthday was approaching, I knew that I had to make a "wow" dessert – one that could stand by itself, and every one would enjoy.  Inspired by my cousin's everlasting love for coffee and cheesecake, as well as my family's obsession with chocolate, I decided to combine these key foods to make a mocha cheesecake.  And did I mention that it's raw, vegan, gluten-free, and refined sugar-free (and they didn't even notice!)?
Rich, creamy, and quite wicked, this mocha cheesecake combines the best of coffee, cheesecake, and chocolate.  The bitterness of coffee is balanced out by the natural sweetness of maple syrup, and the chocolate covered on top.  Its creaminess embodies the perfect "cheesecake" – the type that you'd see at a NYC bakery.  Plus, with dark chocolate dripping off the edges, it's impossible to refuse.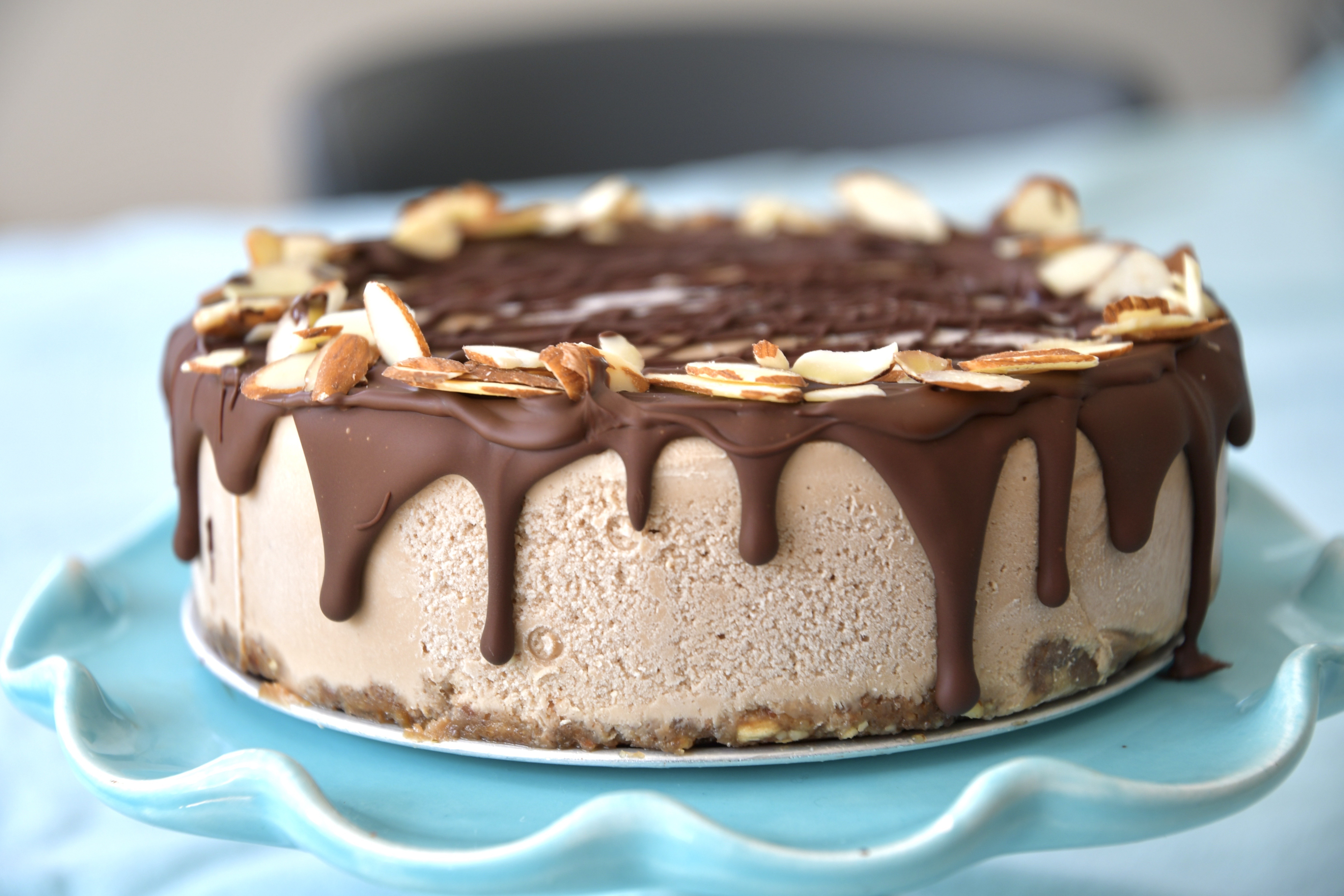 I think it's important to note that my cousin is not dairy-free nor gluten-free, and he is an avid fan of this recipe.  His family said it will barely last a day in their household!  My little cousin isn't necessarily keen on coffee (like many other children) but she liked this cheesecake so much that she wanted another slice.  To say that this mocha cheesecake was successful is an understatement.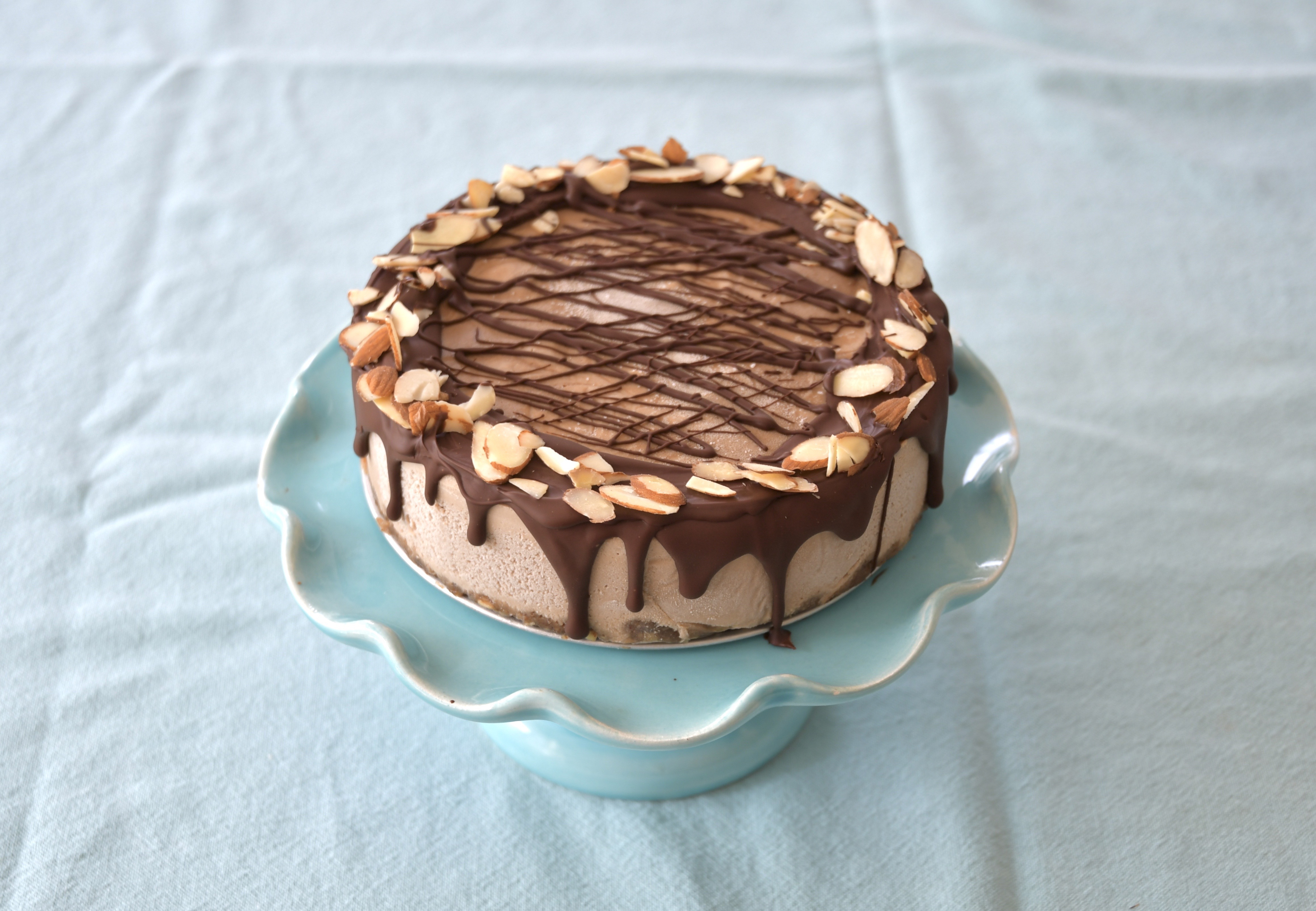 Some tips to point out regarding the ingredients:
Coffee – I used my Nespresso machine using the Volluto capsule.  Obviously, this isn't needed for the recipe (I just used it because it was a special occasion).  You can use one of the instant coffees and make it concentrated.
Cocoa powder – Wild Foods Co's cocoa powder is too good to be true.  It's luxurious, and behind its amazing taste, it has an admirable story.  It is grown and processed using artisan techniques, without any weird chemicals, solvents, or high- heat processes.
Dark chocolate – My personal favorite is the Guittard's Extra Dark Chocolate Chips (if you're okay with it being with refined sugar).  If not, King Arthur's Sugar Free Chocolate Chips are an option.
Enjoy the recipe!

Vegan Mocha Cheesecake (Gluten-free and Refined Sugar-free)
Cuisine:
Vegan, Gluten-free, Refined Sugar-free
Prep time:
Cook time:
Total time:
Ingredients
Crust
1 cup pecans
½ cup hazelnuts
¾ cup medjool dates
1 tsp vanilla
½ tbsp cocoa powder
a pinch of salt
Cream
2½ cup raw cashews, pre-soaked (~5hrs) and strained
½ cup concentrated coffee (like espresso)
⅔ cup maple syrup + 2 tbsp
½ cup almond milk
1 tbsp cocoa powder
1 tsp espresso powder (optional, but recommended)
2 tbsp coconut oil
2 tsp vanilla extract
Chocolate
¾ cup chocolate chips
1 tbsp coconut oil
Instructions
Cheesecake
Line the bottom of a 6 inch diameter springform pan with parchment paper.
Blend all crust ingredients together in a food processor into a sticky mixture.
Press the crust into the pan, and even out with a spoon. Refrigerate.
Then, blend all the cream ingredients together on a high setting until a smooth consistency is reached.
Scoop the cream into the prepared crust. Tap it against a table top to ensure there are no bubbles. Place it in the freezer for four hours.
Chocolate
Melt the chocolate in the microwave at 30 second intervals, stirring in between. Once melted, add in the coconut oil (this will make it more fluid).
With a spoon, go around the now frozen cheesecake (without the springform), pushing the chocolate to the edges, creating those drops.
With a handful of slivered almonds, sprinkle them onto the melted chocolate.
In quick side-by-side motions, use a fork to create a drizzle appearance.
Try out homemade
unsweetened almond milk
 for an even fresher flavor!