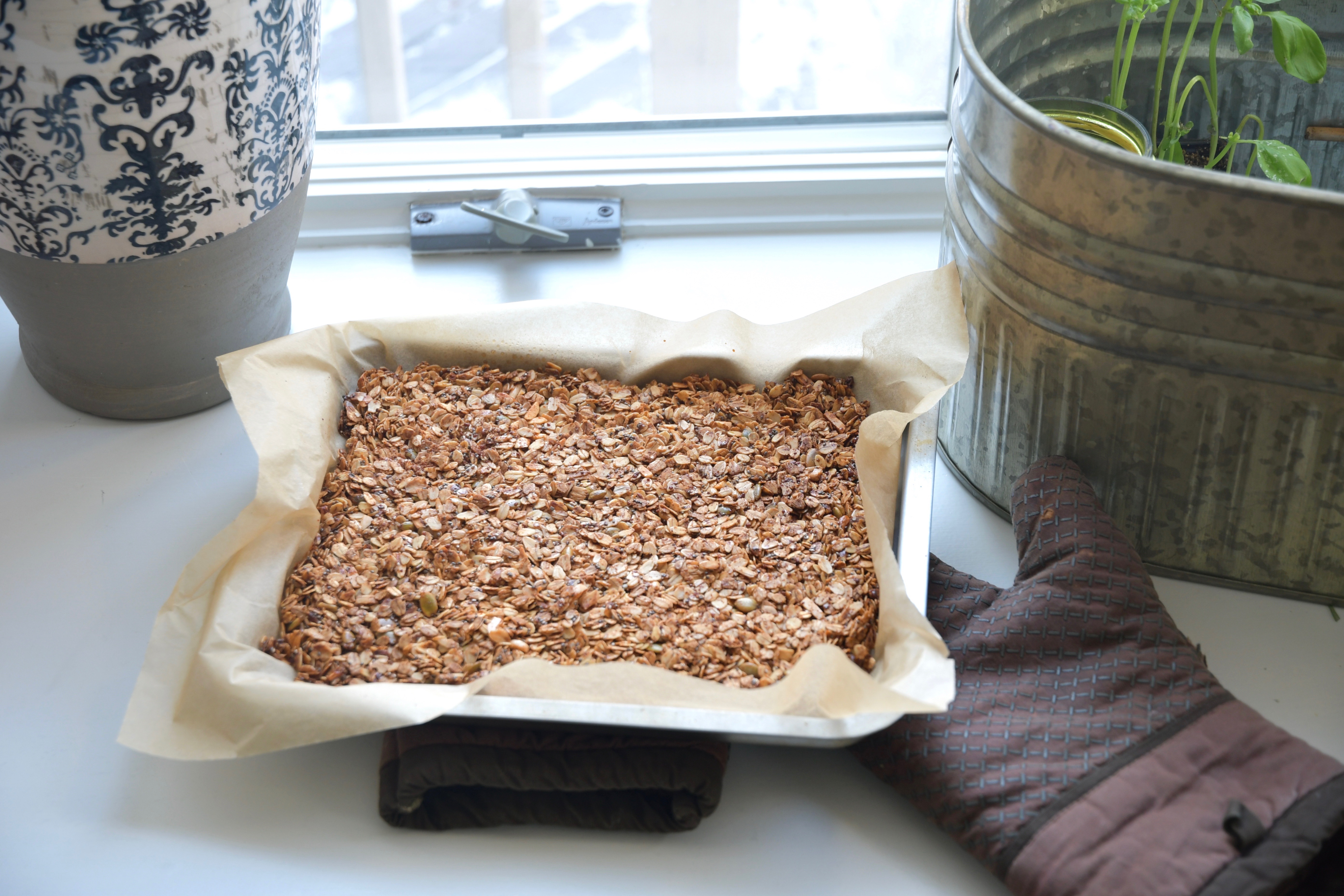 When it comes to granola, personalization is everything.  To satisfy all your wants, try making your own.  Adjust the sweetness, add your spices, and just play around with it – it's fun, trust me.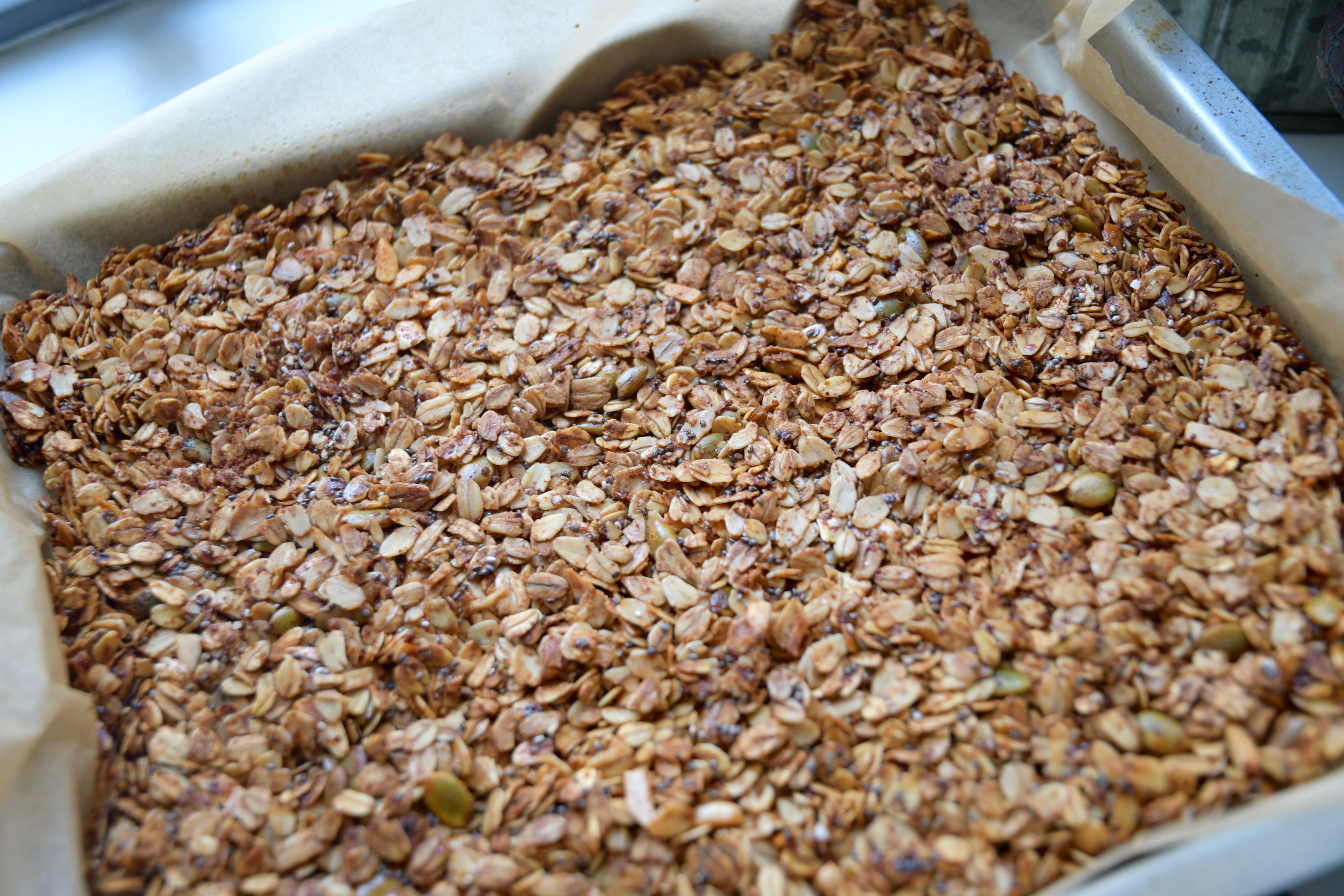 Traditional granolas can be high in sugar, and unnecessary  ingredients such as "natural flavor", making it more like an oatmeal cookie than a hearty snack.  I'm not a huge granola fan, but when eating açaï bowls, it's quite the requisite :).  I was enjoying my store-bought natural granola, but to me, it tasted too much like a dessert; I wanted something that tasted even more wholesome, and didn't give me a sugary buzz after every crunch.
Enters my prized granola recipe that's dairy-free, gluten-free, and refined sugar-free, basically everything but delicious-free.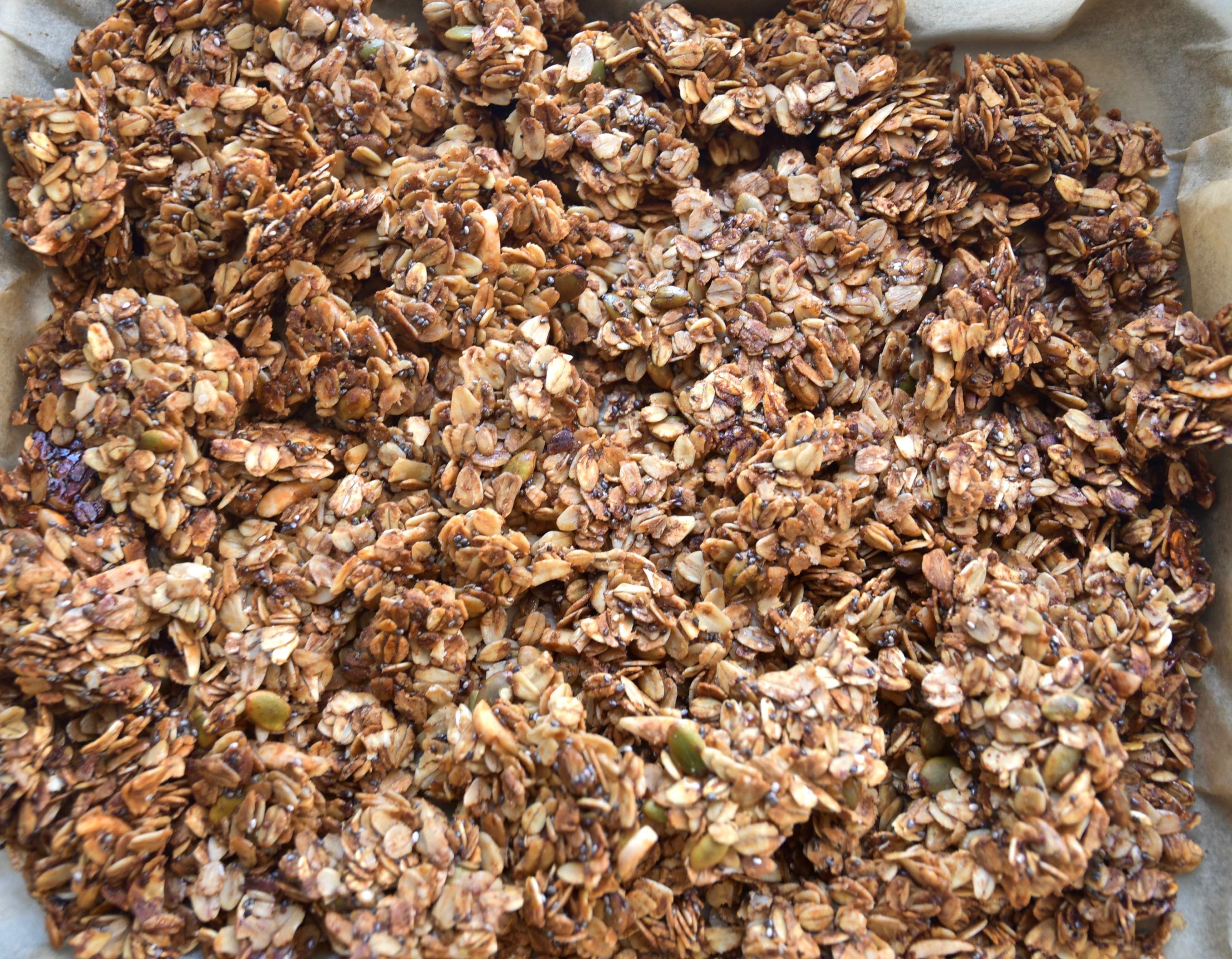 As Keri Gans, RD, author of the forthcoming Small Change Diet notes, "Most have too much sugar and very little fiber. A healthy breakfast cereal should be the exact opposite."  I tried to defy the high sugar and little fiber stamp placed on typical granola by incorporating fiber rich ingredients, and lowering amount of sugar of the granola.  Quaker Granola Oats, Honey, and Almonds has 20 grams of sugar per cup while this granola has 18 grams per cup.  not to mention they use whey protein concentrate,  nonfat dry milk, and natural flavors.
Here's the feature on the star ingredients of my granola:
Pumpkin seeds:  These seeds have high levels of magnesium, which contributes to the creation of ATP (energy molecules in your body).  They also have Omega-3 fats, which are the "good" fats – plus, it's plant-based.
Chia seeds: We've heard about chia seeds, and how they are a superfood.  It's no surprise because chia seeds are very rich in fiber, Omega-3 fats, protein, and calcium.
Coconut Sugar: This sugar has a lower Glycemic index (35) than normal table sugar (60).  Glycemic index is a measure of how quickly foods raise blood sugar levels.  It also has less fructose than normal sugar.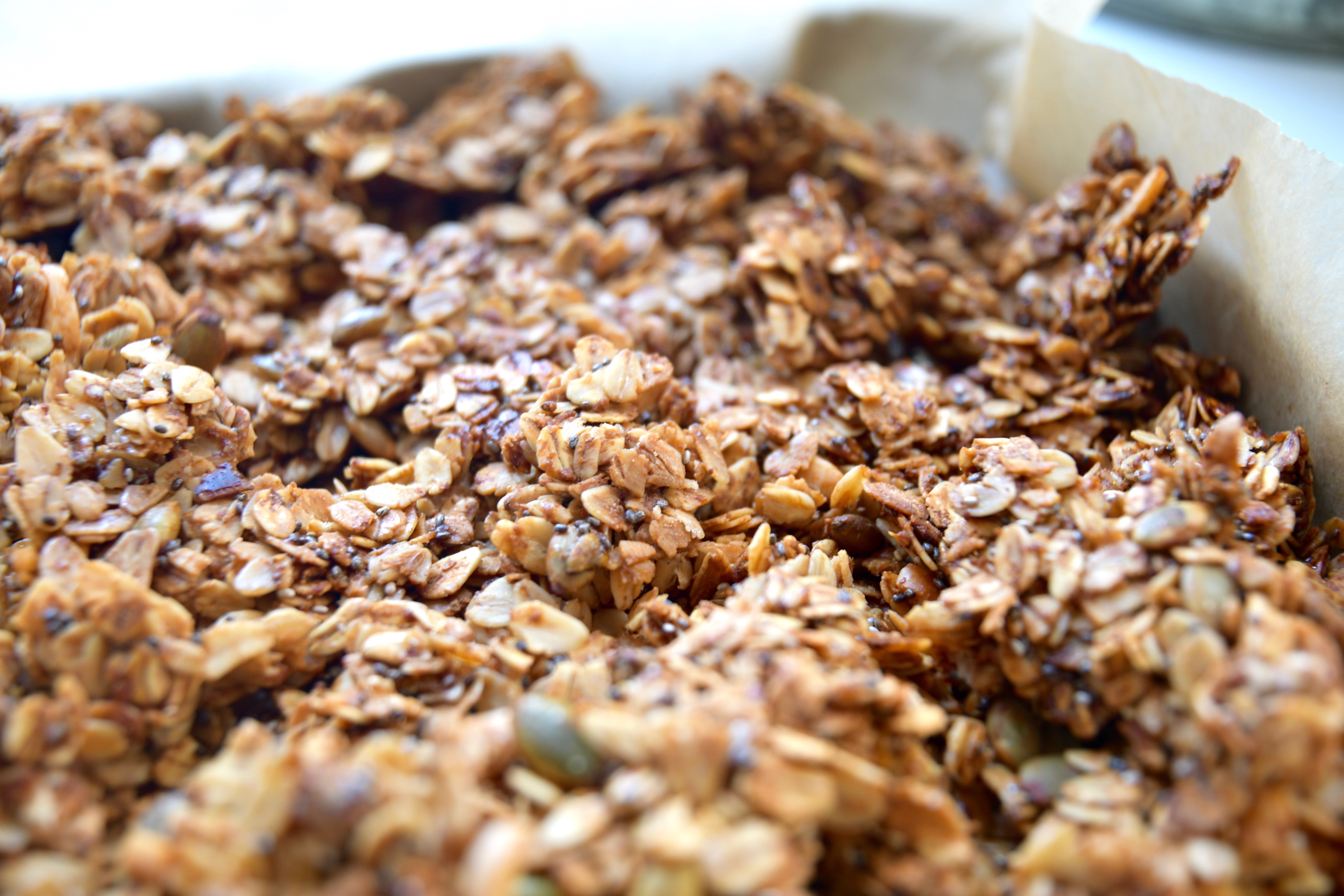 This granola has a crunch, a balanced sweetness, and at the same time, will keep your tummy satisfied.  One of my favorite things about granola is that you can switch it up, and cater it to your wants.  You can sprinkle it anywhere: almond milk, yogurt, açaï bowls, smoothies, ice cream, or even enjoy it by the handful!  Place a cup into a mason jar, wrap it with a ribbon, and you have a gift.  There's so much you can do!

Dairy-free, Gluten-free, Refined Sugar-free Granola
Recipe type:
Breakfast, Snack
Cuisine:
Dairy-free, Gluten-free, Refined Sugar-free
Prep time:
Cook time:
Total time:
Ingredients
2½ cups gluten-free oats
¼ cup quinoa flakes
¼ cup sliced almonds (can be raw or lightly roasted)
1½ tbsp coconut sugar, plus more for sprinkling
3 tbsp pumpkin seeds
2 tbsp chia seeds
¼ cup + 1 tbsp honey
¼ cup grapeseed oil (or canola, avocado, sunflower)
1 tsp vanilla extract
1 tsp cinnamon
½ tsp salt
Instructions
Preheat oven at 325 degrees Fahrenheit.
Mix all ingredients together, and taste it (you might want to add more vanilla, chia seeds, etc).
In a small greased pan (8x8 works), press the granola evenly.
Bake for 35-40 minutes. At the 30 minute mark, sprinkle 1 tsp coconut sugar on the granola, and continue baking.
Let it cool for 20 minutes. Then, break it apart into smaller pieces.
Notes
If you like a really crunchy granola, spray some oil onto the granola, and move it to the top rack of the oven for around 3 minutes.
Nutrition Information
Serving size:
⅓ cup
Calories:
150
Fat:
7.4g
Carbohydrates:
18g
Sugar:
6g
Fiber:
3.3g
Protein:
3.3g
Sources:
http://www.realsimple.com/health/nutrition-diet/healthy-eating/secretly-unhealthy-foods
http://articles.mercola.com/sites/articles/archive/2013/09/30/pumpkin-seed-benefits.aspx
https://authoritynutrition.com/11-proven-benefits-of-quinoa/
http://www.livestrong.com/article/367337-what-are-the-benefits-of-coconut-sugar/