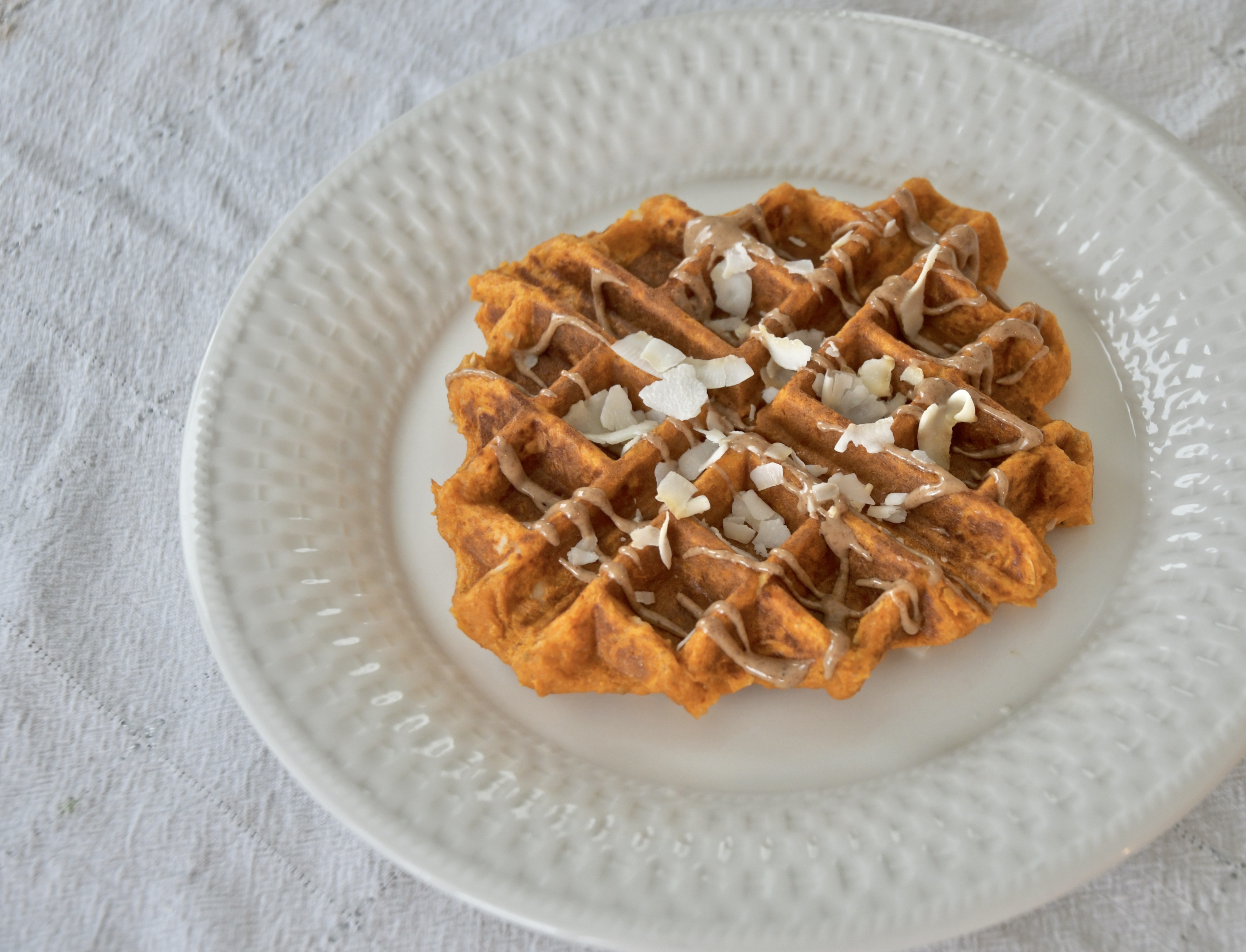 My latest obsession has been sweet potato.  People may think of them as only a Thanksgiving type food, but they're actually quite versatile, and bring the most subtle natural sweetness to any dish.  What better way to celebrate sweet potatoes than make it into a waffle?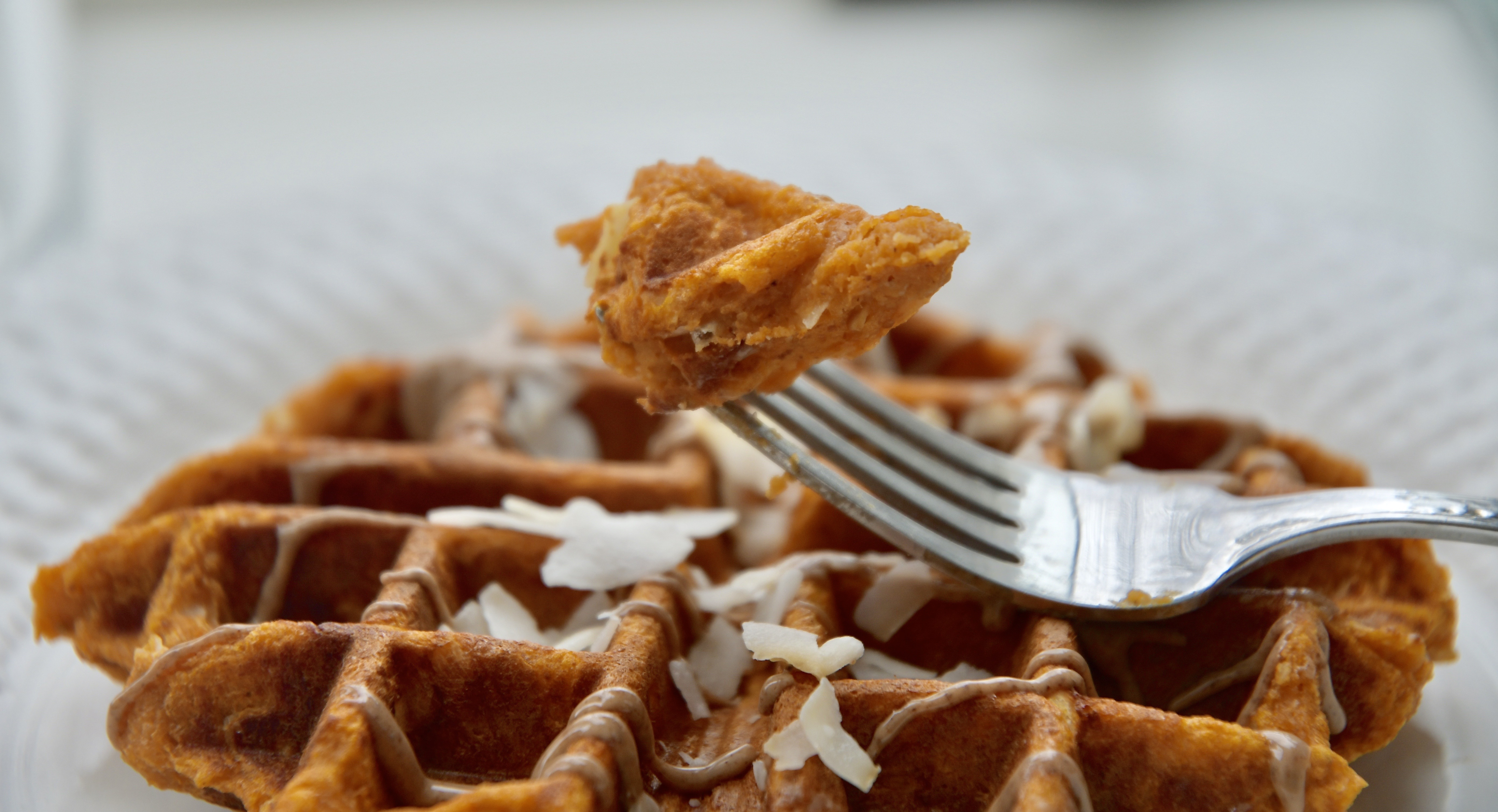 These waffles keep you full, satisfied, and are quite the guilt-less morning treat.  I like to refrigerate them, and pop them in the grill during the week.  Yes, you may be thinking that waffles are all around bad for your – and yes, sometimes they can be, especially when they're gluten free; manufacturer's might add unnecessary ingredients like natural flavor, or other heavily processed like corn syrup.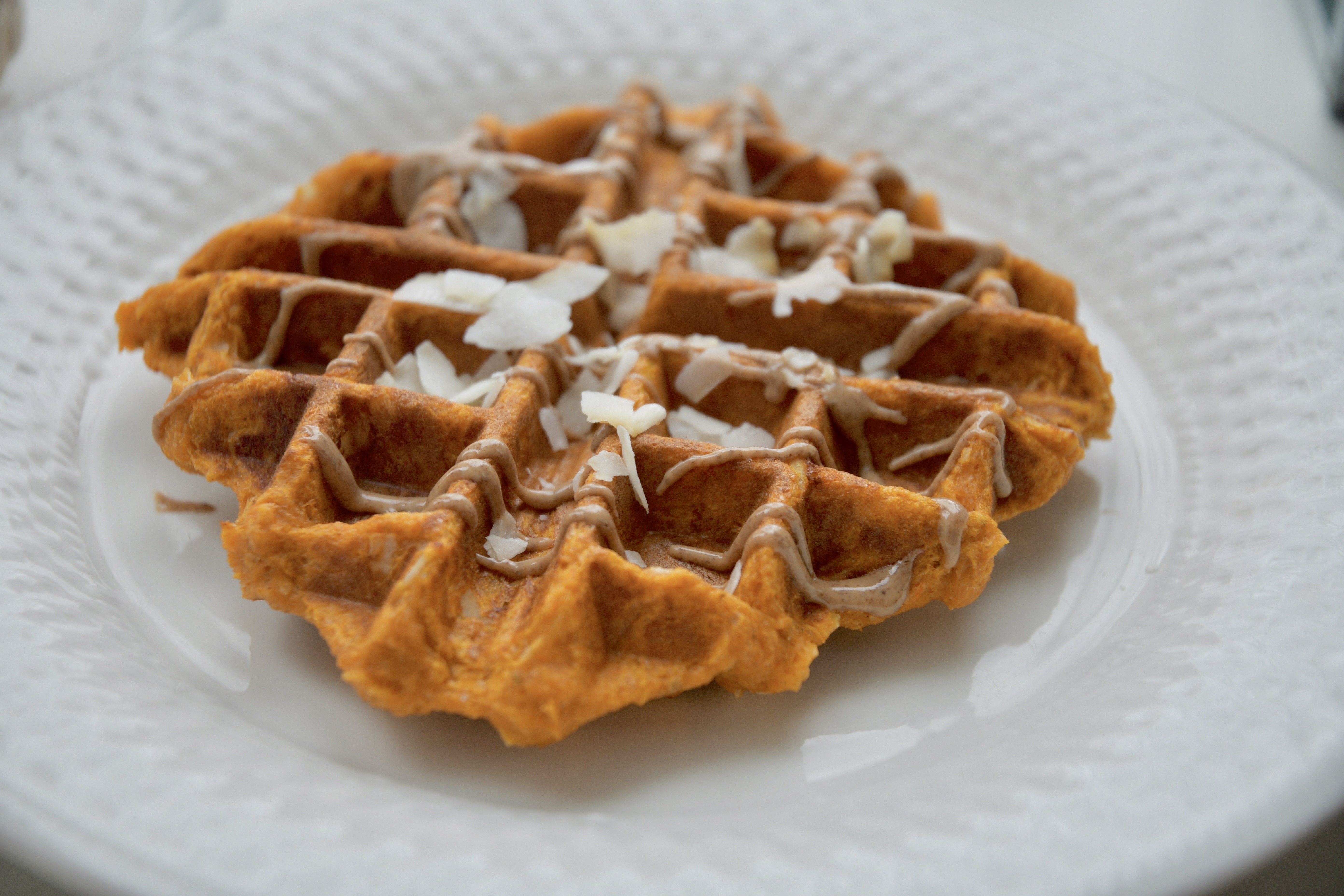 These waffles keep it simple, and they pack the best of nutrition.  All check boxes are ticked when it comes to these:
vegetables
protein (from a protein blend)
fiber
healthy fat
whole grains
kid-friendly
refined sugar-free
vegan
gluten-free
Above all, the ingredients are whole (even the vegan nutritional booster snuck in) :).  Sweet potatoes are the star ingredient – they are an excellent source for vitamin A (a powerful antioxidant), and B6, which promotes a proper nutrient metabolism.  Sweet potatoes also mean you can reduce the amount of sugar added to a typical recipe, or if you're feeling especially healthy, don't add it in at all.  There isn't any added oil to the recipe, and instead, it has coconut flakes which is a great way to incorporate healthy fats (monounsaturated).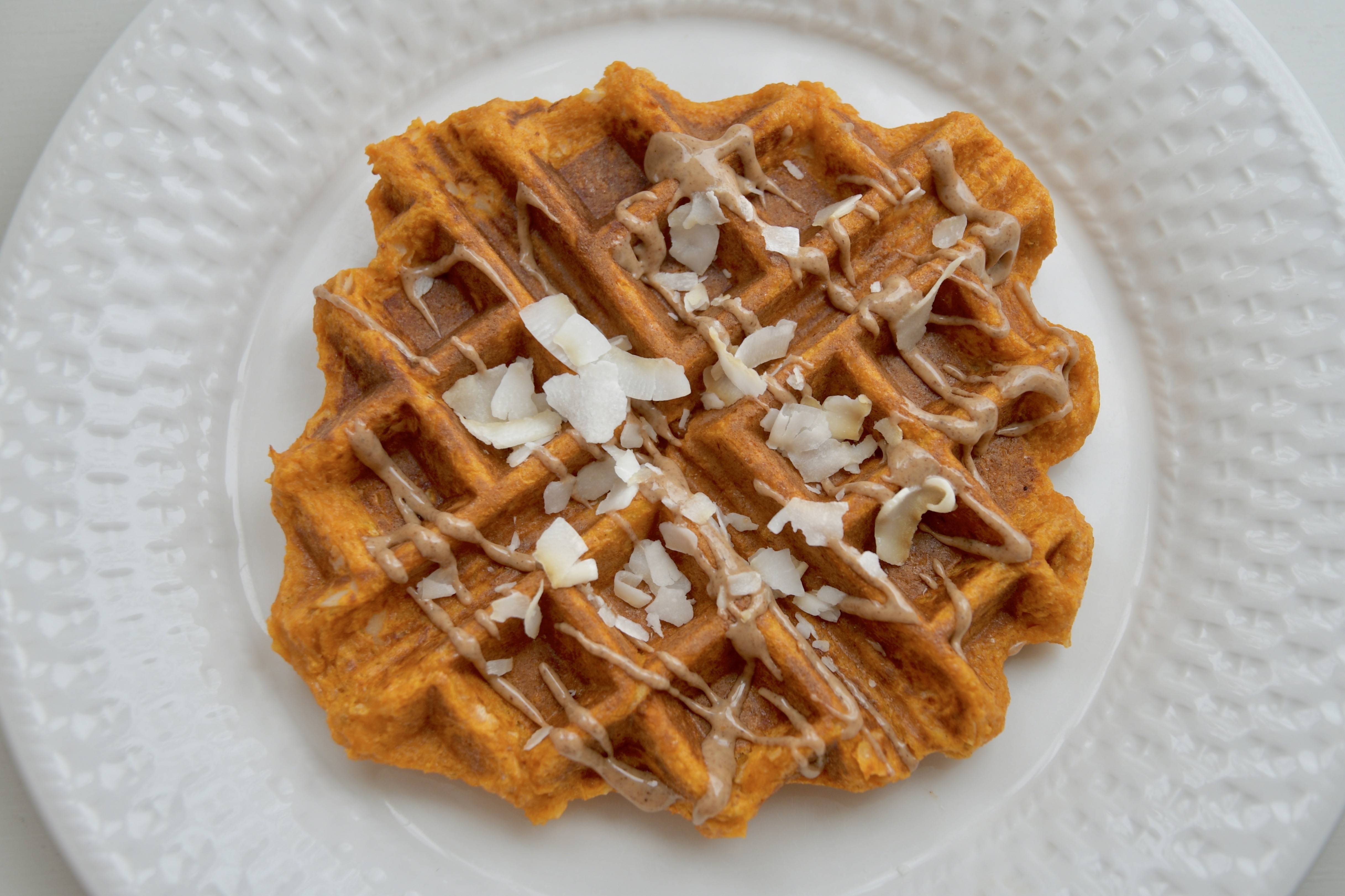 Just like any other waffle, personalize it with fun toppings like homemade nutella, homemade granola, or even bee pollen.  I like to drizzle some homemade almond butter on these sweet potato coconut waffles, and top it off with additional coconut flakes.  Enjoy!

Vegan Sweet Potato Coconut Waffles
Cuisine:
Gluten-free, Vegan, Refined sugar-free
Prep time:
Cook time:
Total time:
Ingredients
2 cups gluten-free oat flour
2 tbsp Bob's Red Mill Protein & Fiber Nutritional Booster (unflavored)
⅓ cup coconut flakes
2 tsp baking powder
1 tsp cinnamon
¼ tsp nutmeg
½ tsp salt
1½ cups almond milk
3 medium sweet potatoes
2 flax eggs (1 tbsp flax/3tbsp water per egg)
2 tbsp maple syrup, agave, or coconut nectar
2 tsp vanilla extract
Instructions
Prepare the flax eggs, and refrigerate.
Begin to microwave the three medium sweet potatoes until cooked (under the potato function of your microwave).
In a large bowl, mix all the dry ingredients together.
In the blender, blend all the wet ingredients (microwaved sweet potato and flax eggs included).
Add the wet to the dry, and mix until just incorporated.
Grease waffle iron, and cook based on manufacturer's instructions (mine was approx. 4.5 minutes).
Enjoy!
Nutrition Information
Serving size:
1 waffle
Calories:
194
Fat:
5.3g
Carbohydrates:
32.5g
Sugar:
3g
Sodium:
50 mg
Fiber:
5.6g
Protein:
5.3g